Wednesday, June 11, 2014, 10:59 AM ET
|
Recently released data from online video ad platforms Videology and LiveRail reveal in-depth dynamics of the fast-moving online video ad industry.

First, in an analysis of 2.4 billion video impressions Videology delivered in Q1 '14, it found that 91% of advertisers bought video ads based on a guaranteed CPM (cost per impression), similar to how traditional TV advertising is bought. This was an increase of 6% vs. Q4 '13.

The desktop still dominates for online video ad campaigns, as 78% were for desktop-only, followed by 10% for desktop plus mobile, 6% for desktop/mobile/connected TV, 5% for mobile only and 1% for other connected TV. Videology found that 35% of campaign used some type of 3rd-party verification, including Nielsen's OCR or comScore's vCE.
News and information sites experienced the biggest growth in share of video ads, increasing from 4% in Q1 '13 to 25% in Q1 '14. However, entertainment sites still dominated, taking 54% of all video ads. Shares for all other types of sites were in single digits.

This data and more are captured in an infographic from Videology.

Separate, LiveRail recently released its "State of the Screens" report with data from surveys of advertising and publishing executives, plus lots of 3rd-party research on changing consumer viewing behaviors. Among its findings:

- 75% of ad executives believe online video advertising is more effective than TV

- 66% of content providers said their site is available as a mobile app today; of those that aren't, 71% plan to build one in the next year

- 44% of content providers say they have a TV Everywhere strategy

- Just 17% of content providers say their app is available on a gaming console

The State of the Screens report also looks at what's ahead for video advertising and includes 3 industry perspectives, from A&E Networks, Dailymotion and Machinima.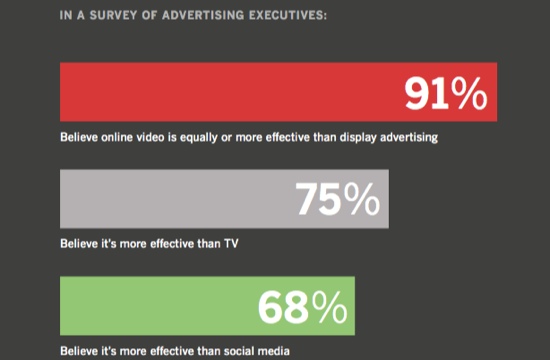 The full report is available for complimentary download.

(Note, at the June 25th VideoNuze Online Video Advertising Summit, Erwin Castellanos, LiveRail's Chief Revenue Officer and John Rogers, Videology's SVP, Platform Partnerships, will participate on the panel, "Programmatic from the Publishers' Side: Opportunity to Optimize Inventory or Risky Race to the Bottom?" Learn more and register now!)