Friday, June 6, 2014, 5:51 PM ET
|
Here's a new measure of how deeply online video viewing, and Netflix in particular, have penetrated the living room: 49% of all U.S. households now have at least one TV connected to the Internet, slightly over double the 24% level from 2010. For Netflix, 49% of its subscribers report watching online video on their connected TV weekly vs. 8% weekly use among all non-Netflix subscribers. 78% of Netflix streaming subscribers watch Netflix on a connected TV.

TVs are connected either through game consoles, Blu-ray players, Smart TVs or devices like Roku, Apple TV, Chromecast, etc. The data is according to the 8th annual Leichtman Research Group's Emerging Video Services study.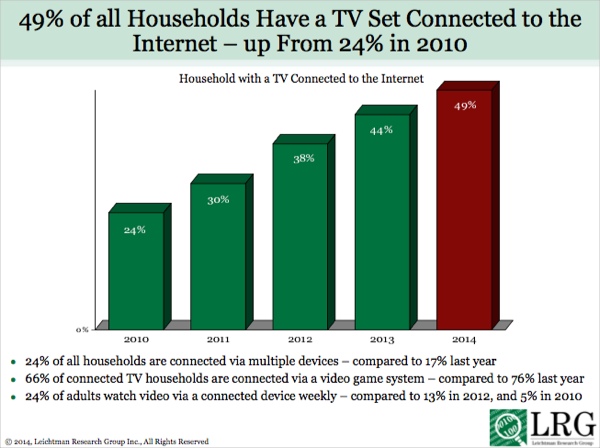 The study also reveals some evidence of cord-nevering and cord-cutting. Among Netflix subscribers, 80% reported also subscribing to pay-TV - down from 85% in 2012 and 88% in 2010. As well, 48% of all non-subscribers to a pay-TV service now subscribe to Netflix - up from 29% in 2012 and just 16% in 2010. Fully 57% of 18-34 year-olds report subscribing to Netflix.

Netflix has of course argued strenuously that it is an augment, not a replacement for pay-TV. However, the data suggests this is not the case for a growing number of U.S. households. Cord-cutting is still seen largely as driven by economic conditions, but the improvements in Netflix's and other OTT providers' content choices have no doubt made the transition off of pay-TV a little easier for many (likely non-sports fans or "entertainment-onlys" in particular, as I've previously asserted).

In addition, the proliferation of cheap and simple connected TV devices, particularly the $35 Chromecast, have taken the financial risk and technical complexity out of moving online video into the living room. As Netflix and other OTT services gain wider use on TVs, it's clear the living room will became a battleground for viewers' attention between incumbent pay-TV operators and OTT players. Some pay-TV operators who want to avoid this showdown are now incorporating Netflix and others into their own services.

Also worth noting from the LRG study are that 15% of Netflix subscribers say they share their subscription with other outside their household (you know who you are!) and that 31% of adults watch video on non-TV devices daily plus 58% weekly (up from 18% daily and 46% weekly 2 years ago).