Wednesday, June 4, 2014, 10:41 AM ET
|
Adobe has released its Q1 2014 U.S. Digital Video benchmark report, finding among other things, that 21% of U.S. pay-TV subscribers use TV Everywhere, up from 16% in Q3 '13. The 21% usage rate is exactly what research firm NPD found in its separate research released last month.

(Note, in a NY Times article today, Adobe said that the Q1 data excludes the Sochi Olympics TVE usage.)

Adobe also found that the number of TVE authentications jumped by 246% vs. Q1 '13, with iOS devices taking a 43% share of views, followed by browser (36%), Android (15%) and gaming consoles (6%). The latter experienced the strongest growth rate, up from a 1% share a year ago.
The number of authenticated videos per visitor also increased by 133% vs. Q1 '13. Both iOS and Android apps delivered 9.2 authenticated videos/visitor/month in Q1 '14, up from 5.1 and 3.9 respectively in Q1 '13.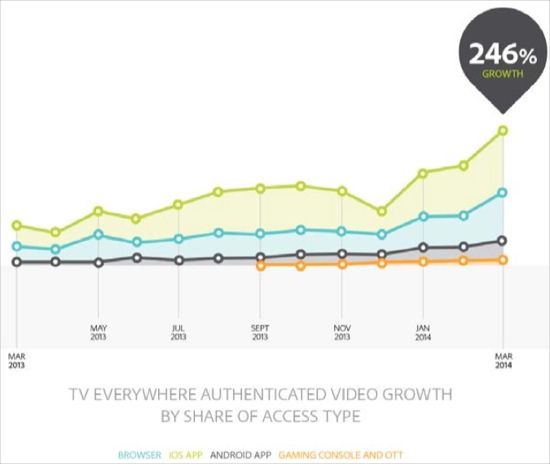 While the TV Everywhere usage trends are certainly moving in the right direction, as I explained last week, the pay-TV industry's challenge in driving TVE usage much more mainstream comes back to spotty marketing, inconsistent user experiences and rights issues for TVE distribution of popular content. TVE usage is likely to continue trending up, but until all these are all fully addressed, it is unlikely to hit an inflection point.

Stepping back, Adobe said there were 35.6 billion total online video starts in Q1 '14, up 43% vs. the prior year. 25% of these starts were on mobile devices, up 57% vs. Q1 13 (smartphone viewing up 73% and tablet viewing up 42%). All further validation of mobile's growing importance.

The full report is available for complimentary download here.