Thursday, November 14, 2013, 10:19 AM ET
|
Here's a good news / bad news story for TV executives closely watching millennials' video consumption habits as a harbinger of what the future may look like. The good news is that, in new research by YuMe and IPG Media Lab, TV shows are still the most popular type of video millennials are watching, cited by 37% of the group.

The bad news however, is that among women 18-24, hours of TV viewing/week was down 10% year-over-year and among men 18-24 it was down 7%. Of note, user-generated content was a close second to TV shows in popularity, cited by 33% of millennials, and ahead of movies (28%), music videos (19%) and news (13%). For low-budget UGC to be vying so closely with expensive TV programming for millennials' attention says a lot about their changing tastes.
Across all types of video content millennials are the heaviest users and also the most likely to watch on the go. Although in-home viewing was cited as the most frequent viewing location (99%), millennials cited "at a friend's" (54%), commuting (32%) and other out-of-home locations at higher rates than Gen X and Baby Boomer survey participants. No surprise, smartphone viewing in all of these out-of-home locations was particularly popular, with apps preferred over mobile web streaming.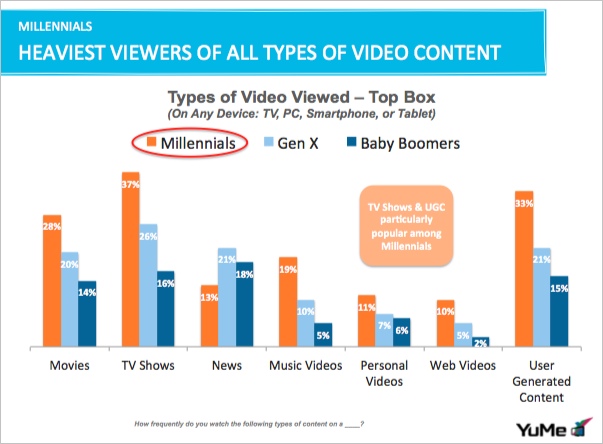 In terms of video advertising, mobile seems to be the optimal environment for millennials, with the highest rates (52%-57%) of unaided recall on smartphones and tablets. Against a control group, the biggest jumps in perception of a brand being "modern" across 5 different dimensions were when a video ad had been seen on a smartphone.

The full research results are available here, with a nice summary infographic here. For those interested in digging in further, YuMe, IPG Media Lab and IAB will be hosting a webinar on Nov. 22nd at 11:30am PT. Registration is here.
(Note: YuMe is a VideoNuze sponsor)