Thursday, March 6, 2014, 10:22 PM ET
|
YuMe, Frank N. Magid Associates and Razorfish have released results of a study on how consumers interact and view content/advertising on Connected TVs (CTV). Among the key findings are that consumers are receptive to CTV advertising and that choice and control in advertising are a priority for them.

For example, participants said that they have a low tolerance for interruption and would rather be shown ads that have relevant calls-to-action, rather than something completely unrelated to the content being viewed. Participants also said that their attention is drawn to on-screen animation but want ad interactions to be kept simple and easily accessible. Additionally, utilizing video advertising works best because CTV should be a lean-back experience.
The research found that CTV users tend to be sophisticated users who understand they are watching a "Smart TV" and expect a smarter ad experience than traditional TV offers. Since the TVs are smart, they expect advertising to be smart as well. CTVs are seen as "television with benefits" not a "big PC." As a result, they want ads that are more personal, relevant, and provide a concrete reward for engagement.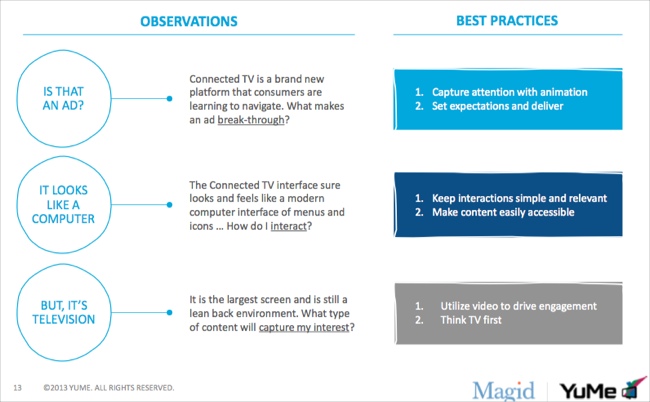 The study asked consumers to provide feedback around their interaction with CTVs in order to better understand best practices for advertising creatives, including capturing attention, maintaining interaction and utilizing video.

The research conversation was broken into three parts. The first explored ways in which participants use and value the benefits of their CTVs, including advertising. The second was hands-on interaction with four CTV advertising viewing experiences and multiple creative examples. The third portion was a follow-up discussion with participants, probing their reactions and perceptions of various CTV ad creative executions.

The study took place in December 2013 in Santa Monica, CA using four discussion groups of a mix of heavy connected TV and traditional TV users. The report is available for download and a research study highlight reel are available here.