Thursday, June 24, 2010, 4:36 PM ET
|
comScore has released its May online video rankings and at the top of the list, as usual, is YouTube. In May it racked up a record 14.6 billion video views, up 11.5% from April. YouTube's market share actually dipped slightly in May, to 43..1%, still its 3rd-highest monthly share since comScore began releasing this data in Jan '07. Total video views were also at a record high of 33.9 billion views in May.
The chart below shows how remarkable YouTube's growth has been since Jan '09. YouTube has more than doubled its monthly views from 6.3 billion. Meanwhile, YouTube's market share has hovered right around 40% each month, with its lowest level at 37.7% in Oct '09 and its highest of 43.5% in April '10. YouTube is generating more than 10 times the monthly views it was when Google acquired it.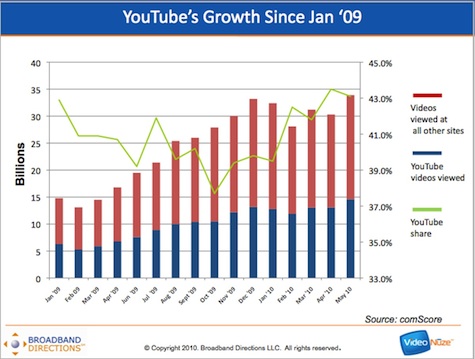 As I wrote earlier this month, YouTube's dominance of the online video market will become more important strategically to Google as Google TV begins deploying later this year. YouTube's new "Leanback" UI will optimize the site for big screen viewing, helping bring the best-known brand in online video to mainstream users' TVs. I expect YouTube has some addition usability enhancements up its sleeve before Google TV officially launches. And today's Clearleap-Roku partnership possibly opens a path for incumbent video distributors to bundle YouTube with their existing video services.
As this week's partnership with WWE shows, YouTube also remains committed to building up its premium library. Lastly, now that it has prevailed in the Viacom copyright lawsuit (at least pending appeal), YouTube and Google executives will have one less distraction.
Elsewhere in the comScore May data, Hulu notched its best month yet, with 1.175 billion views and 43.6 million unique visitors. No doubt the plethora of season finales helped its performance. And VEVO, the music video site launched in late '09 by Universal Music, Sony, EMI and YouTube racked up its best month yet, with 430.2 million views (up 30% from April's 331.7 million views), and 45.6 unique visitors.
Last year May began a blistering 7 month growth spurt for the online video industry; we'll see if the pattern holds this year.
What do you think? Post a comment now (no sign-in required).