Tuesday, October 30, 2012, 11:01 AM ET
|
Yesterday comScore released its September 2012 Video Metrix data which showed YouTube accounted for approximately 13.1 billion videos viewed out of the monthly total of 39.4 billion. At 33.2%, that's the lowest market share YouTube has had since Aug. '10 when I started tracking this data. As recently as July '12, YouTube had a 53.1% share (with 19.6 billion videos viewed), though as I pointed out previously, in August, its share dropped unexpectedly to 36.5%.

In addition, the 13.1 billion YouTube videos viewed in September is the lowest in the 13 months since comScore changed its reporting methodology and is nearly 30% lower than the 18.6 billion videos viewed a year ago in Sept. '11 and almost 650 million lower than its Aug '11 total of 13.8 billion videos. (YouTube's record high was 21.9 billion in Dec. '11). See chart below for more.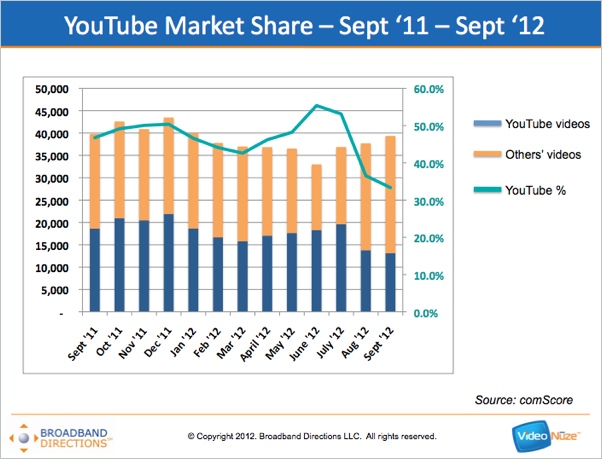 YouTube isn't the only big site to see a big reversal from Sept. '11. Of the top 10 sites from Sept. '11, 7 remained in the top 10 in Sept. '12. But of those 7, all of them except AOL (which was up 81.6%) had fewer videos viewed in Sept. '12 than in Sept. '11. The biggest decliners were Microsoft (down 49% from 736 million to 377 million), Viacom (down 43% from 634 million to 362 million) and VEVO (down 24% from 748 million to 570 million).

In the past year Facebook was down 8% and Yahoo was down 5.3%, while NBC, Turner and Hulu all dropped out of the top 10, replaced by Grab Media (#6, with 267 million videos), NDN (#7, with 423 million) and Amazon (#10, with 107 million). It's worth noting that both Grab and NDN are video syndicators, and AOL relies heavily on syndication via its 5Min acquisition from 2 years ago.

Part of what seems to be happening here is a fragmentation of viewing away from the top 10 sites. In Sept. '11, the top 10 combined for 57.5%, or 22.9 billion of the 39.8 billion videos viewed. But in Sept. '12 the top 10's total accounted for just 42.4%, or 16.7 billion of the 39.4 billion videos viewed.

Other than increased fragmentation and the shift to syndication, I'm not sure what else is driving these changes. For YouTube in particular, I would have thought its investments in original video programming and its progress with mobile would increase its viewership.

I have reached out to both Google/YouTube and comScore for more information.