Monday, November 19, 2012, 10:31 AM ET
|
comScore released its October Video Metrix rankings late last week and the good news for YouTube was that with a little over 13 billion videos delivered, its market share nudged up to 35% from September's 33.3%. As I wrote a few weeks ago, that was a record low share for the perennial online video leader, and was actually down from 53.1% just 2 months prior.

However, as the chart below shows, it's the third straight month of share below 40% and may well represent the "new normal" for YouTube's place in the industry. One interesting explanation for the drop in share is the comScore's numbers don't account for mobile (smartphone and tablet) viewing. If proportionately more of YouTube's viewing has shifted to mobile, then the declines in its online share would reflect that.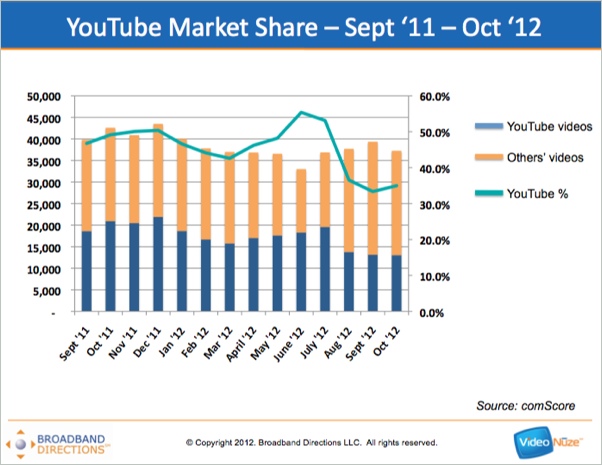 Offsetting the news about YouTube's market share however, was that its minutes per viewer (or "engagement" as it's commonly called in the industry), actually dropped to 399.5 in October, from 419.1 in September. If you look at the chart below, you'll also notice that's the first time since Sept. '11 that engagement dropped below 400 minutes per month.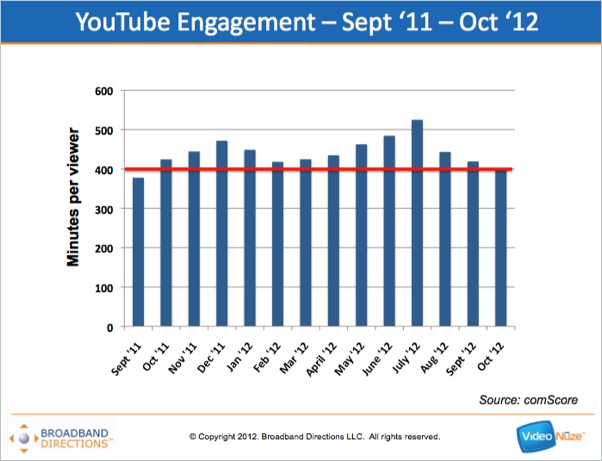 YouTube has been trying to shift its model from viewers watching random short clips to instead spending longer time with its original content and series (the key motivation behind it investing hundreds of millions of dollars in content). Longer, dedicated viewing helps drive better monetization, YouTube's primary goal. See today's article in the NY Times about Machinima's success for an example of what YouTube would love to replicate.

It's hard to say what's behind the fluctuations in YouTube's engagement other than seasonality. And comScore's numbers are notoriously disputed in the industry, so actuals may be different. But when you look at the chart, what jumps out is that to date YouTube does not appear to gaining sustained momentum in engagement. We'll have to see how this plays out in the coming months.