Tuesday, August 4, 2015, 10:52 AM ET
|
Research released late last week by Parks Associates, which revealed high levels of churn for many smaller SVOD services, reinforced for me that many of these services are at risk of being seen as little more than transactional VOD opportunities by consumers. If this occurs it would have huge implications for both the SVOD services and larger ecosystem.

First, to review the research, Parks found that for SVOD services other than Netflix, Hulu and Amazon, the churn rate over the past 12 months was equal to 60% of those who subscribed to such services. For Hulu Plus, 7% of U.S. broadband subscribers cancelled their subscription in the past 12 months (equaling churn of half or more of Hulu Plus's subscribers). Parks estimated Amazon's churn at around 25% (though that's clouded by value of the overall Prime service). Only Netflix fared well, with churn in the past 12 months running around 9% of its subscriber base. Note, none of these SVOD services publicly disclose their churn rates.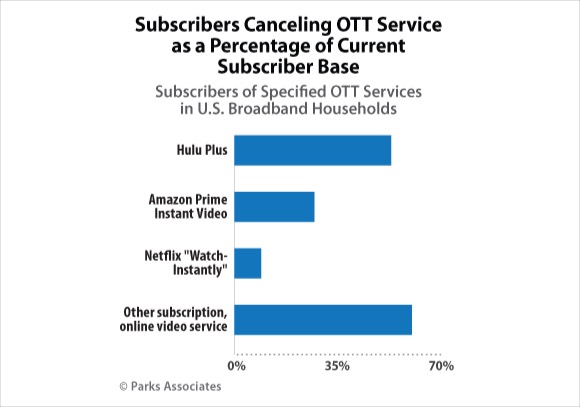 As my colleague Colin Dixon at nScreenMedia pointed out, by comparison DirecTV has about a 20% annual churn rate. But as Colin noted, churn matters a whole lot more in pay-TV where hundreds of dollars are spent to acquire each new subscriber, compared to SVOD where it's low double digits or less. Colin observed that with SVOD's lower SAC, churn is less a cost problem than a revenue problem.

But I think there's a broader risk looming for all of these SVOD services and those soon coming to market: that consumers will come to view them more as short-term transactional VOD opportunities than true long-term subscription services.

The key enabler of SVOD churn is the "easy-in/easy-out" ability for consumers to add and drop SVOD services online and at will. With no contract, no equipment rental and no financial penalty for dropping a service, SVOD subscribers can come and go as they please, with zero downside (think about how different the mobile and pay-TV industries are, with their high exit barriers).

But that's not all. The other big contributing factors to SVOD morphing into VOD are binge-viewing and the relative value of SVOD over VOD alternatives. It's no secret that binge-viewing has soared in popularity, with 75% of TV viewers now engaging in some form of it. These days it seems like all of us are walking around with a bucket list of TV shows we intend to binge-view when we have time (often when we're done watching the show we're currently binging!).

Binging a show with a temporary subscription to an SVOD service is a fantastic relative value to transactional VOD. For example, my wife and I intend to binge season 4 of Showtime's "Homeland," now that we have time since finishing binging season 3 of FX's "The Americans." If we bought a season pass on iTunes when it becomes available on August 17th, it would cost $32, almost triple the $11 it would cost to subscribe to Showtime's new OTT service for a month (and there's actually a 30-day free trial) and binge the episodes. The value is even crazier for a show like "Game of Thrones," where buying all 5 seasons would cost around $140 on iTunes, whereas binging all episodes in a month of HBO Now would be just $15.

Now of course HBO, Showtime (and other SVOD providers) are betting that by watching one of their shows online you'll get sucked into watching others you didn't intend to or maybe didn't even know about. This is of course why Netflix and others are so aggressively ramping up their spending on originals and why recommendations engines are so critical - to entice subscribers to watch more and retain their subscriptions.

No doubt, some people will do this, but many others won't. Rather, they'll tee up what's next on their bucket list with another subscription and cut back on their existing one(s). This is what the Parks research bears out. This merry go round will create unpredictability for SVOD providers at a time when their expenses are soaring through higher profile originals and expensive licensing deals (e.g. Hulu's Seinfeld deal).

All of this underscores how uncertain things are for everyone in the TV and video ecosystem. In our Uber-crazed world, consumers are being trained to expect services on-demand and pay only for what is valued and used. Continuously fine-tuning their video services for those actually being watched will become the norm, a huge departure from the traditionally inert world of pay-TV subscriptions.

As a result, SVOD providers who are counting on longer-term subscriptions to make their models work may find themselves running businesses that are in fact more transaction-oriented.