If you want to get a sense of how significant an inflection year 2009 was for online video, have a look at the chart below.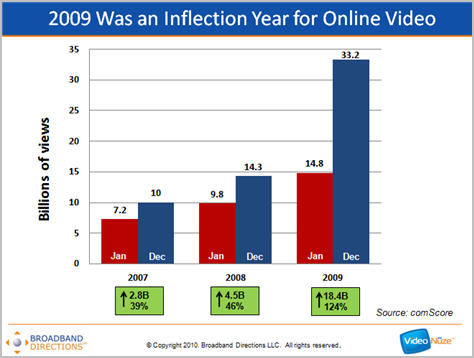 As you can see, according to comScore data, while Jan-Dec growth in 2007 (up 2.8 billion views or 39%) and 2008 (up 4.5 billion views or 46%) were impressive by any standard, the Jan-Dec 2009 growth of 18.4 billion views, up 124%, completely blows them away. Growth was so significant in 2009 that I think years down the road it will be pointed to as the year that online video really turned the corner.
But if that's the case, the question begs, "Why did growth accelerate so much in 2009 vs. prior years?" That's what I've been asked several times by industry colleagues since posting "comScore Data Shows 2009 Was a Blistering Year for Online Video" 2 weeks ago. It's a great question and though I don't have a really precise answer, here's my best sense of what happened.
No surprise, the most important contributor to the year's growth was YouTube. It zoomed from 6.3 billion views in Jan '09 to 13.2 billion in Dec. '09. That increase of 6.9 views accounts for 38% of the 18.4 billion delta between Jan and Dec. So what did YouTube do to generate such significant growth? Part of the reason is surely organic; more people uploading, sharing and viewing YouTube videos. But in 2009 YouTube also made strides in professionalizing the content on YouTube, broadening its value proposition to users. For example, its "Content ID" program, which lets media companies manage and monetize user-uploaded videos, has largely addressed the copyright infringement concerns from past years (the Viacom suit is a notable exception).
In 2009, among other things, YouTube also signed up Disney/ESPN, Univision and others as content partners, began implementing FreeWheel's ad system so 3rd party content providers could better monetize their views, engaged a number of leading brands to use it as a promotional platform, and with "YouTube Direct" engaged news organizations as partners. In short, YouTube continues to immerse itself into the fabric of the Internet. Whether users are viewing videos at its site or through its wildly popular embeds, YouTube has become omnipresent. YouTube now also claims to be the 2nd largest search site.
A second, but distant contributor to 2009's growth was Hulu, which saw its views increase by over 763 million from Jan to Dec, accounting for about 4% of the 18.4 billion increase in total views during that period. Hulu's mindshare leaped following its 2009 "Evil Plot" Super Bowl ad featuring Alec Baldwin and the subsequent ones. No doubt the addition of ABC programs throughout the year, plus other new content partners, also helped generate more viewership, along with the hugely popular SNL clips.
Once you get beyond these top 2 sites, the individual contributions to 2009's growth are more dispersed. The comScore data shows that across all video sites, usage intensified significantly during the year. For example, the number of videos viewed per viewer increased from 101 in Jan to 187 in Dec. The number of minutes watched jumped from 356 in Jan (almost 6 hours) to 762 in Dec (more than 12 1/2). There were also 31 million more U.S. Internet users watching video in Dec vs. Jan (178 million vs 147 million).
Looking beyond the numbers and thinking more qualitatively, it's also fair to conclude than in '09 online video reached a certain level of awareness that made it almost ubiquitous. There is just so much video online, and it is shared so widely, and highlighted so frequently by mainstream media, that it is unavoidable, even for the least technically-savvy among us. People are increasingly entertaining themselves with online video, but they're also finding new uses for it in their daily personal and professional lives.
I think it's unlikely we'll see the same level of growth in 2010 as in 2009, but I do believe the growth curve over the next 5 years will be very steep. The primary contributor will be convergence devices (e.g. game consoles, Blu-ray players, Roku, etc.) that are bridging online video to the TV where longer-form consumption will be the norm. Another key contributor will be TV Everywhere services, which are just now getting off the starting blocks. Lastly, I think growth in mobile consumption will be another important contributor. Add them all up and the 33.2 billion videos viewed in Dec. '09 will look relatively small 5 years from now.
What do you think? Post a comment now (no sign-in required).