Thursday, September 4, 2014, 5:03 PM ET
|
Vindico has released its Q2 '14 Adtricity rankings, with 45% of online video ad impressions receiving a grade of "A" or "B" up from 34% in its last rating in late 2013. "A" and "B" ratings are considered TV quality and are respectively defined by Vindico as "placed in high impact areas and excellently executed" and "often placed front and center, and generally well executed with minor deductions."
A further 16% of impressions were rated "C," with the largest amount - 38% - rated "D." A "D" rating means "ad placements reflect a significant departure from standard and acceptable quality benchmarks." Just 1% received an "F" rating.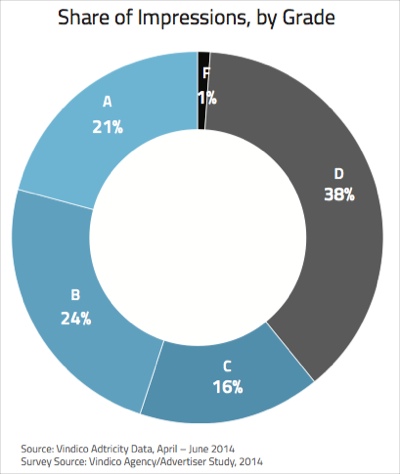 As in the past, Vindico advocates that quality measurements include both viewability and verification, with the latter including bot/fraudulent activity plus execution and content adjacency.

Vindico further found that 45% of all video ad impressions met the MRC's new video viewability standard of 50% of the ad in view for two continuous seconds. It also found that 60% of all video ads were delivered via a small-size player, with only major media sites' video consistently displayed in large-size players (75% of the time).

Finally, bot impressions registered at 10% of all video ad impressions, with ad networks and exchanges at 14%, Internet brands at 7% and major media at 2%.

The full report is available for complimentary download here.