Tuesday, August 2, 2016, 9:50 AM ET
|
Videology released its U.S. Video Market At-A-Glance report for Q2 '16, revealing, among other things, that ad spending by clients on data-infused linear TV campaigns grew by 74% from Q1 '16 to Q2 '16. That compared with a 50% increase Videology experienced from Q4 '15 to Q1 '16. Videology noted that traditional TV ad buying continues going strong, but that the quarterly acceleration is evidence of the market becoming more sophisticated about pursuing specific audiences.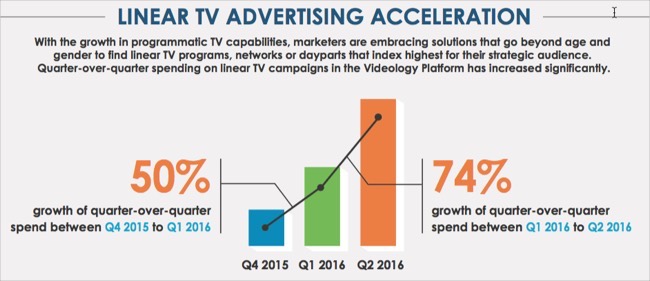 Videology also said that 14% of video campaigns run through its platform used TV data segments to help target online video campaigns, up from 11% in Q1 '16. As usual, the most-used segment was current TV ad schedules, though in Q2 criteria that followed changed to daytime TV viewers, news show viewers, competitor's TV schedule and comedy show viewers.

As in past reports, Videology found that the most used targeting data was demographic, which was used in all campaigns, followed by geographic (68%), behavioral (63%) and postal (19%).

Three-screen campaigns (PC, mobile and connected TV) grew to 62% of campaigns in Q2 '16, a 20% increase vs. Q2 '15, while PC-only declined to 12% share, vs. a quarter of campaigns a year ago.

Advertisers' demand for in-demo verification of campaigns also continued to increase. In Q2 '16, 41% of campaigns required ratings verification from Nielsen Digital Ad Ratings, comScore vCE or another third-party provider, up from just 19% back in Q2 '13.

Additional data is available on an infographic that can be downloaded here.