Thursday, August 18, 2011, 10:25 AM ET
|
Yesterday video ad manager FreeWheel released its Q2 '11 Video Monetization Report, chock full of interesting data points gathered across 11.3 billon video views and 6 billion video ad views in the quarter. Among the key findings: long-form content (defined as 20 minutes+) carried an average of nearly 3 ads per view, with an 81% ad completion rate.
I agree with FreeWheel's observation that the implementation of multiple ads in long-form content is akin to the TV model, and the strong ad completion rates (especially for mid-rolls which were the highest at 94-96%) indicate that consumers are becoming more accepting of the fact that premium online video content will be accompanied by ads, just as it is on TV. The data suggested two additional things to me: first, while long-form monetization is improving, a huge opportunity exists in the ad load gap between online delivery and TV and second, online video completion rates could become the basis to offset DVR-driven ad-skipping.
Regarding the ad load gap, this has been an issue since TV programs began to be delivered online. Hulu and the network sites were initially reluctant to impose too heavy an ad load out of concern it would diminish the user experience. As I wrote a while back, the problem was that this balance spoiled viewers into thinking online was a virtually "free" medium (free of fees AND with just a few ads). The FreeWheel data suggests this is changing (as it certainly has on Hulu and the network sites). Still, 3 ads of mostly 30 seconds each aggregating to 90 seconds in a long-form online view is far less than the 8 minutes of ad time typically seen on TV per half-hour program. That monetization gap suggests a potentially big opportunity to increase the volume of ads delivered.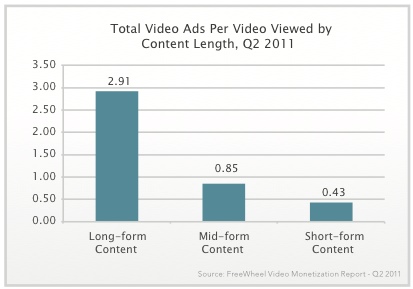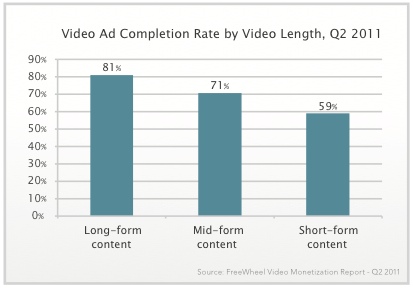 Will increases be incremental or dramatic? I'd bet on incremental, since extreme moves would no doubt be a big turn off for viewers. However, the strong completion rates reported by FreeWheel suggest that once users start viewing, their propensity to tolerate the ads is high (obviously assuming the content's appeal is strong as well). That leads to the second big opportunity, which is online delivery as an offset to DVR-based ad-skipping.
It's no secret that DVR users love not just time-shifting, but also the ad-skipping capability. But now with online delivery, content providers have a chance to regain some control. One of the little-touted benefits of online delivery is that in-stream ads can't be avoided (though granted some viewers use the time to check email and do other things). With the FreeWheel data suggesting ad acceptance is currently very high, there is an inherent opportunity to highlight improved viewership metrics to advertisers mitigating concerns that many TV ads are not just tuned out, but actually skipped altogether.
Naturally when I take my analyst hat off and put on my consumer hat, the prospect of more ads that can't be skipped doesn't fill me with joy - nobody likes more ads! However, monetization concerns are as pressing as ever, especially now as talk of a double-dip recession mounts. Tweaking the ad loads therefore represents low-hanging fruit for content providers. The key here is not to abuse the opportunity and to make the ads as relevant as possible (remember ad irrelevance is a key driver of ad-skipping).
As ad loads increase, keeping an eye on completion rates reported by FreeWheel and others, plus overall viewer satisfaction measures, will provide crucial insight into whether the right balance is being struck.