Thursday, August 8, 2019, 11:29 AM ET
|
Video ad spending remains strong on the biggest social platforms, while connected TVs are gaining, according to a new Pixability survey of ad agency executives. 90% of agencies are running video ad campaigns on Facebook, followed by 88% on YouTube and Instagram. Hulu was fourth with 80%. Roku was at 58%, ahead of Twitter (42%) and Snapchat (36%). Amazon Fire TV lagged at 27%. Linear TV is used by 76% of ad executives surveyed.

All platforms look poised for continued success with 63% of agency executives saying they'll increase video ad spending in 2020 by 1-10%, and another 20% saying they'll increase spending by over 10%.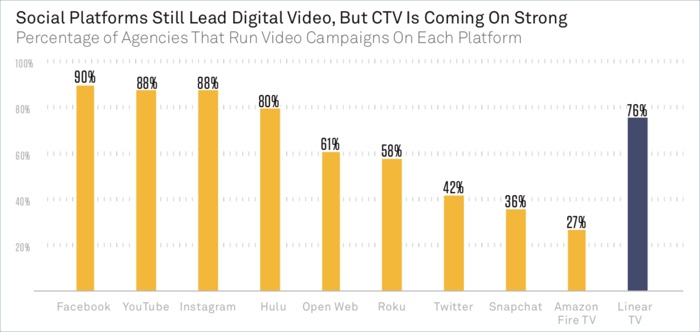 As part of its Insights Report, Pixability also analyzed data from campaigns that ran through its PixabilityONE buying platform to discern key trends. CTVs including Roku and Fire TV deliver nearly 100% view-to-completion rates with their non-skippable ads. YouTube delivered a 49% rate, while Facebook (17%) and Instagram (6%) lagged. However Facebook and Instagram both showed significant improvement vs. 2018, with 240% and 190% improvements in view-to-completion rates.

YouTube also showed strength with view-to-completion rates with longer ads: 51% of 30-second ads were viewed fully, while 47% of 15-second ads were. However, it's dramatically reversed for Facebook, with 35% of 15-second ads being completed and just 3% of 30-second ads being completed. Users scrolling their feeds translates into little patience for longer ad formats.

That doesn't mean Facebook and Instagram aren't effective for video advertisers seeking certain types of results. Facebook actually delivered the highest click through rate at 1.15%, followed by Instagram at .47% and YouTube at .11%. Connected TVs don't provide many opportunities to click through, yet they do deliver a lot of longer-form volume. Interestingly, 65+ year-old viewers have the highest CTR across all 3 social platforms.

Overall, the report is a valuable resource for all ad buyers looking for insights on the fast-changing video industry and its biggest platforms. There's lots more interesting data in the report which can be downloaded here.