Wednesday, February 19, 2014, 9:52 AM ET
|
VEVO released its U.S. Music Video Viewership Report for 2013 this morning, revealing that the site generated 55 billion video views last year, up 33% vs. 2012. In the second half of 2013, VEVO had 165 million videos viewed daily worldwide, up 40% vs. 2H 2012. In December, 2013 alone, VEVO had 243 million unique viewers and 5.5 billion video views, up 45% vs. the 3.8 billion in December, 2012 and up 140% vs. the 2.3 billion views in December, 2010.

Behind all of the growth is the dramatic surge in mobile usage. As the chart below shows, global mobile/tablet and connected TV views grew 176% to 17 billion streams in 2013 vs. 2012. In the U.S. alone, views on mobile/tablet and connected TVs grew 118% and in December, 2013 accounting for a whopping 60% of all views. That's among the highest rates of mobile usage I've heard about; by comparison, YouTube says it gets about 40% on mobile, while PBS Kids says it gets almost three-quarters.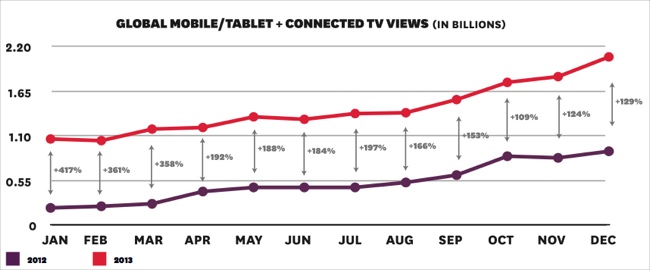 VEVO also said Miley Cyrus broke the one day viewership record with 19.3 million views for "Wrecking Ball," which also reached 100 million views in 6 days, the shortest time ever.

During 2013 VEVO reported it worked with over 900 different advertisers, launched in Germany, The Netherlands and Poland, expanded its living room footprint with launches on Apple TV, Samsung Smart TVs and Blu-ray players and Chromecast, delivered 824 pieces of original programming, produced 30 live concerts and premiered 750 exclusive music videos.

About the only thing VEVO didn't comment on in its year-end report was revenues, which must have similarly seen a huge bump in 2013.