Monday, August 17, 2015, 9:01 AM ET
|
Vdopia's "Chocolate" programmatic mobile video marketplace, which launched last October, has experienced a 172% increase in ad spend from Q1 '15 to Q2 '15. Vdopia said that Chocolate served 12 billion mobile video ad auctions per month in Q2, a 110% increase vs. Q1. Chocolate had a 97% increase from Q1 to Q2 in mobile web ad auctions and a 195% increase in mobile in-app ad auctions.
Vdopia's results are the latest show of strength for mobile and programmatic video. Last week, video supply-side platform SpotXchange said it saw mobile video ad spend surge by 800% in the first half of 2015 vs. the first half of 2014 as mobile accounted for 19% of total spending on its platform vs. just 4% a year ago. Also last week, demand-side platform TubeMogul reported a strong Q2 with programmatic TV driving its performance.

Vdopia said that 85% of its mobile video ad impressions occurred on the mobile web (which had a 127% spending increase in Q1) vs. 15% in-app (which had a 417% increase in Q1). 57% of impressions were on iOS vs. 43% on Android. Completion rate increased from 58% in Q1 '15 to 62% in Q2 '15.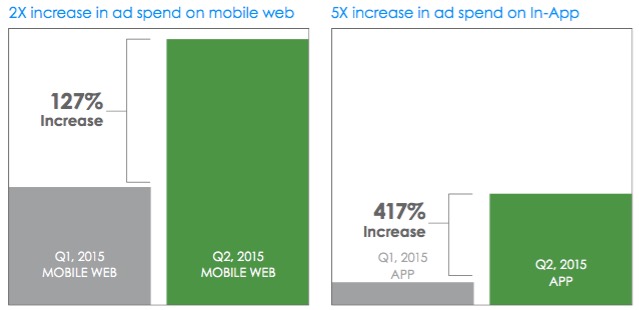 The fastest-growing categories of advertisers in Q2 were CPG (up 3,104%), Restaurants (up 1,096%), Technology (up 961%), Travel & Tourism (up 918%) and Consumer Goods & Electronics (up 312%).

On last Friday's podcast, Colin and I discussed how massive audience fragmentation, improved automation, targeting and flexibility are all driving programmatic's growth, creating huge ad spending shifts.

For a deep dive into how to succeed with programmatic, come to SHIFT // 2015 Programmatic Video & TV Advertising Summit on Tues, Dec. 1st in NYC (early bird discounted tickets are now available).