Friday, March 14, 2014, 11:36 AM ET
|
The U.S. pay-TV industry lost 105K video subscribers in 2013, the first time in history that the industry has contracted on a year-over-year basis. The industry ended 2013 with approximately 94.6 million subscribers vs. 94.7 subscribers at YE 2012. The 105K loss is a swing of 280K vs. the 175K the industry gained in 2012. (see chart below)

The data comes from Leichtman Research Group, which has tracked the top pay-TV operators' video subscriber numbers for years.
According to LRG, the net results once again reflected share-shifting between cable TV operators, telcos and satellite operators. The top 9 cable operators lost about 1.735 million subscribers vs. 1.41 million lost in 2012. The top telcos added 1.46 million subscribers vs. 1.298 million in 2012. And the top satellite operators added 170K subscribers vs. 288K in 2012.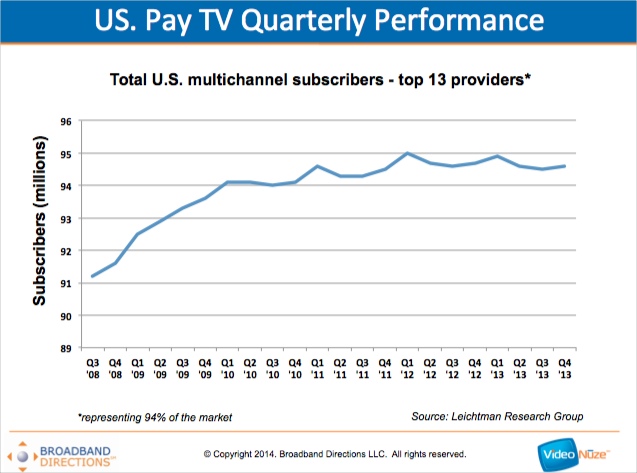 The overall industry net loss is certain to spark a new round of debate over whether cord-cutting and cord-nevering is accelerating. LRG notes that the loss represents just about 0.1% of all subscribers, hardly a cause for panic. Still, as I wrote earlier this week, a key industry topic is how best to reach the all-important millennial segment - with lower-priced offerings as DISH intends with its new OTT service, or via additional TV Everywhere style features that increase the value of expensive bundles.