Monday, February 29, 2016, 11:40 AM ET
|
TV Everywhere is the great hope of the pay-TV industry to combat viewers from defecting to OTT. But pinning down actual TVE usage remains murky at best.

For example in its Q4 2015 Digital Video Benchmark released last week, Adobe found that 17.4% of pay-TV viewers used TV Everywhere at least once per month. That was the highest level of TVE usage Adobe has found, rising above the 13%-14% range of usage over the past 4 quarters.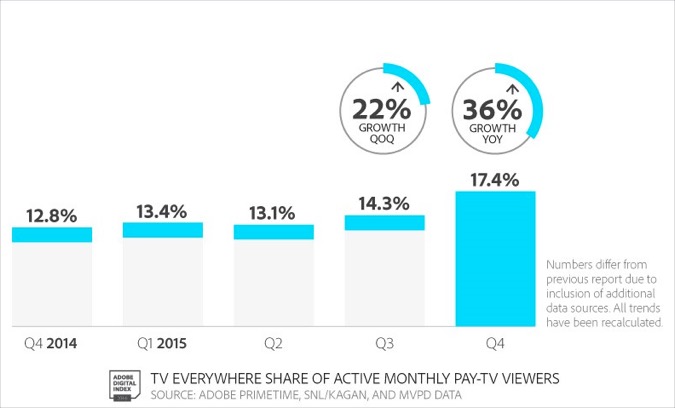 Adobe attributed the bump to fall TV premieres, with more people deferring their viewership to a time later than the actual linear broadcast. Adobe's research is based on anonymous data from Adobe Analytics, Adobe Primetime and Adobe Social.

But back in July, 2015, industry group CTAM found that 43% of pay-TV subscribers used TVE at least once per month. The CTAM research was conducted by Hub Entertainment Research, which has been doing a tracking study since 2014. Hub's research is based on a survey of 3,505 TV viewers, aged 18-74.

Meanwhile, in Q3 '15, Digitalsmiths found that just 23.9% of pay-TV subscribers have their provider's TVE app on their mobile device. Of this approximately 84% use it less than once per week or more frequently. That would translate to about 20% using it once or more per month, give or take. Digitalsmiths survey is based on 3,153 consumers in the U.S. and Canada, age 18 and older.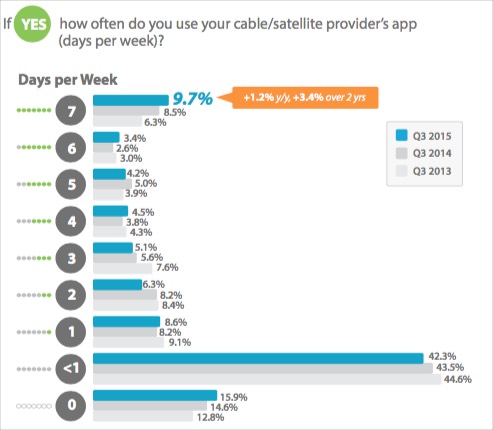 So, three different pieces of research and three very different answers. I wish I could explain what accounts for these differences but it's hard to say. Ultimately, the only thing that really matters is whether TVE is accomplishing its objective, which is to provide more value to pay-TV subscribers so that cord-cutting and cord-nevering are minimized. While it's equally hard to identify any cause and effect relationship, the latest analysis from MoffettNathanson for Q4 '15 suggests cord-cutting was tepid (although that's only because Sling TV subscribers were included).

In the bigger picture, more viewers than ever are getting accustomed to anytime, anywhere, any device access to TV programming as SVOD services gain in popularity. That means pay-TV operators have little choice but to keep emphasizing TV Everywhere to stay competitive. The research on TVE may not be aligned, but the need for TVE is as pressing as ever.