Thursday, August 6, 2015, 11:54 AM ET
|
Tremor Video released data gleaned from 40 billion ad calls in its premium video marketplace, finding, among other things, that 7 out of 10 advertisers are now buying multi-screen campaigns. That's a bit higher than the 58% Videology reported for Q1 '15 back in May based on its data.

Both data points illustrate how aggressively advertisers are embracing both online video and mobile video advertising. Mobile in particular now accounts for 50% or more views on many popular sites, including YouTube, making a mobile component mandatory.
Tremor also found that advertisers' fastest growing brand goals are engagement and viewability. CPG, Entertainment and Auto were the top categories running video campaigns, with Travel and Retail following.

Overall, Tremor saw 14% growth in video views across screens, driven mainly by a 36% increase in smartphone video consumption, which Tremor found is consistently used throughout the day. Conversely, desktop usage peaks during afternoon working hours and connected TVs peak during primetime (no surprise). Entertainment is the most popular form of content.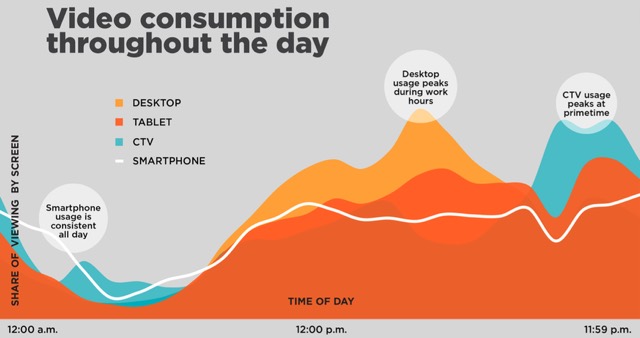 Tremor posted an infographic with all the data here.