Monday, March 17, 2014, 9:33 AM ET
|
The 17 largest broadband ISPs in the U.S. added over 2.6 million subscribers in 2013, down almost 105K vs. the approximately 2.7 million subscribers they added in 2012. These ISPs now have 84.3 million subscribers, with cable TV operator ISPs having 49.3 million (58%) and telco ISPs having 35 million (42%). The data comes from Leichtman Research Group.
The top cable ISPs added over 2.1 million subscribers in 2013, down from the 2.4 million they added in 2012, while the top telcos added 477K, up from the 323K they added in 2012. LRG noted that telcos are upgrading DSL subscribers to fiber broadband, having lost a little over 3 million of the former and adding 3.3 million of the latter in 2013. Verizon was by far the biggest telco gainer, with 220K new subscribers in 2013, followed by CenturyLink with 140K new subscribers.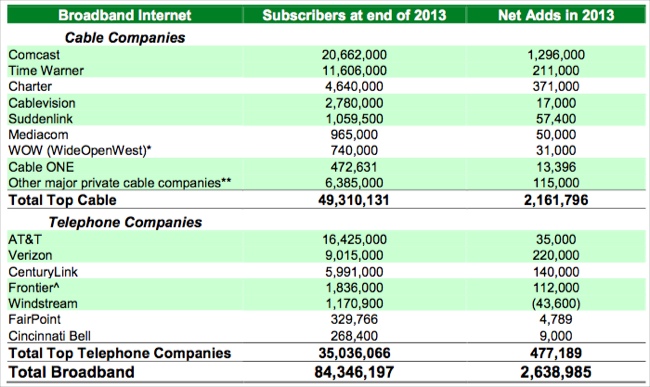 On the cable side, as always, Comcast was the biggest gainer, adding nearly 1.3 million subscribers up from the 1.2 million it added in 2012. Comcast's gain accounted for 60% of all cable broadband subscriber additions in 2013 and almost half of all broadband subscribers added in 2013.

Last Friday LRG reported that U.S. pay-TV operators lost 105K subscribers in 2013, to end the year at 94.6 million. With this loss, and the gain of broadband subscribers in 2013, broadband subscribers are now 89.2% of video subscribers in the U.S., up from 85.9% at the end of 2012. My colleague Colin Dixon has pointed out that, given current trends, by the end of the year (and possibly sooner), Comcast, the biggest ISP and video provider, will have more broadband subscribers than video subscribers.
Obviously the expanding base of broadband subscribers has been a critical enabler of online video usage in the U.S.