Wednesday, September 16, 2015, 3:46 PM ET
|
Research firm Magid has released new survey data showing that robust OTT options are by far the most important driver of cord-cutting interest among those who say they're likely to cut the cord. Magid found that OTT-related reasons were cited by a combined 77% of would-be cord-cutters, up from the 76% that cited OTT reasons in 2014 and 54% in 2013.

Per the chart below, the top 3 reasons cited by would-be cord-cutters were: "I am satisfied with online streaming options like Netflix and Hulu" (50%), "I can watch the TV shows and movies I like on the Internet" (41%) and "I have entertainment options on the Internet" (41%).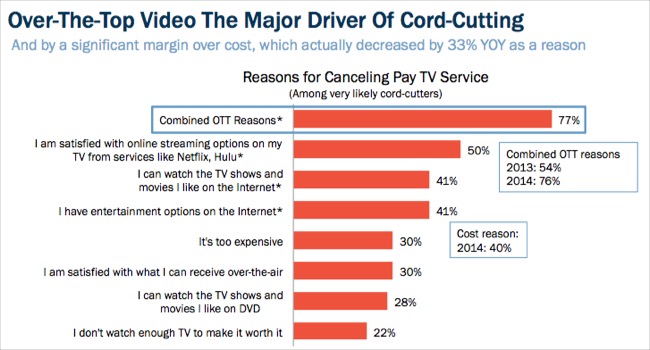 As I've previously asserted, the massive investments in licensed and original content by the major SVOD services have helped them to be perceived by many people as bona fide alternatives to pay-TV subscriptions, not just augments (live sports still the exception).

Interestingly, the cost of pay-TV as a driver of cord-cutting fell significantly in importance, cited by 30%, down from 40% in 2014.

Overall, Magid found a continued incremental increase in interest in cord-cutting, with 3.7% of 18-64 year-old respondents saying they're extremely likely to cancel their pay-TV service in the next 12 months. That was up from 2.9% in 2014 and 2.7% in 2013. Among 25-34 year-olds, cord-cutting interest was nearly double, at 7.1%.

Magid also found that 20% of current non-pay-TV subscribers identified themselves as true "cord-nevers," who haven't ever had a pay-TV subscription. The other 80% had a subscription but dropped it somewhere within the last 6 months to over 5 years ago. For those without pay-TV, just 5% said they are likely to start a pay-TV subscription in the next year.

Last, 61% of respondents who are pay-TV subscribers said they're interested in a "skinny bundle or picking and choosing a cable/satellite package with a smaller number of channels at a lower price than a typical cable bundle." That's a high number, but I'd guess most of the respondents had in mind a genuine a la carte model where they could choose exactly what channels they wanted vs. the random assortment that are included in current skinny bundles.

While the Magid research highlights increased interest in cord-cutting along with growing appeal of OTT options, it also reinforces that the industry is not poised to go off a cliff any time soon. That was the concern behind the huge sell-off in TV stocks this summer. Industry executives have been emphasizing that the market's reaction was overblown and the Magid research seems to support that.

The Magid survey included 2,400 consumers aged 8-64 years-old and was fielded online from July 30 - August 5, 2015.