Monday, November 16, 2015, 10:37 PM ET
|
Perhaps the biggest question weighing on the pay-TV ecosystem these days is whether younger viewers who have acclimated themselves to a strictly SVOD diet will eventually become pay-TV subscribers or whether they'll remain "cord-nevers."

The traditional narrative is that as younger viewers settle down, buy a house, make more money and have kids they'll end up subscribing to pay-TV just like their parents did. With the booming array of inexpensive OTT substitutes, that expectation has become feeling ever more tenuous.

But a new survey of 1,111 U.S. 18+ year-olds by Clearleap seems to suggest the narrative still has legs, with 91.3% of those over 30 years-old saying they either currently or previously subscribed to pay-TV. That's a big jump from the 73.5% of 18-29 year-olds that said they have subscribed at some point, which means 26.5% of the age cohort are technically "cord-nevers." 64.4% of 18-29 year-olds say they currently subscribe to pay-TV while the subscription rate for all respondents to pay-TV was 78.9%.
That's not to suggest these millennials will automatically become pay-TV subscribers as they age, but for the beleaguered industry, it's certainly encouraging despite skyrocketing SVOD usage. 85% of 18-29 year-olds reported using an SVOD service with 70.3% saying they currently use one. But of all respondents, just 3.4% said they would cancel their pay-TV subscription because they also subscribed to an SVOD service, although 47.5% said they had considered canceling their pay-TV service. Meanwhile, 62.8% of SVOD subscribers said they "love" their SVOD service and wouldn't cancel it.

While the survey found that 71.3% of all respondents had either used or use an SVOD service (almost equal to the 78.9% pay-TV subscription rate), the wrinkle is that a high percentage of password sharing occurs for SVOD, which means the paid usage level is actually much lower. For example, nearly a quarter (22.5%) of 18-29 year-olds said they use an SVOD account that doesn't belong to them. More than 3 in 4 (78.6%) of them have shared their own login credentials, vs. 64% for 30-44 year-olds and 68.5% for 45-59 year-olds (which Clearleap believes are parents sharing with their kids).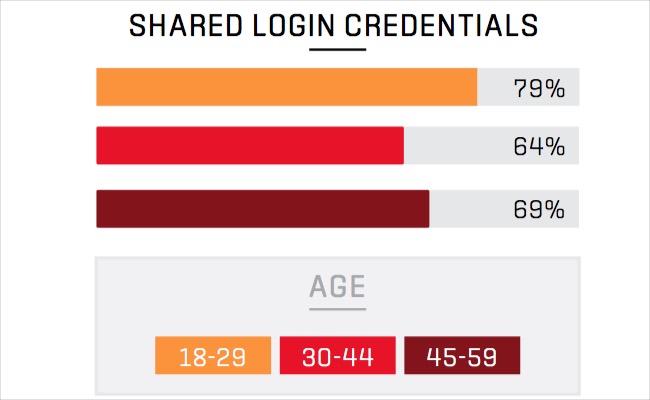 The survey also provides useful data on market share by SVOD service (no surprise, Netflix leads with 83%), respondents' wish lists for desired content types, willingness-to-pay for customized content and which connected TV and mobile devices are used by age group, among other things.

The survey is further evidence that the pay-TV world is under pressure from SVOD alternatives, but it paints a picture that is not nearly as dire as some in the media (and on Wall Street) have suggested. Importantly, Clearleap concludes by listing a number of steps the pay-TV industry must pursue to stay competitive. None of them are easy, and arguably, it's the industry's inability to execute on them to date that has left the door so wide open for SVOD services to flourish over the past 5 years.

The survey results can be downloaded here.