Thursday, November 21, 2013, 11:05 AM ET
|
There are all kinds of videos available online these days, but, according to a recent survey by the NY Times Consumer Insights Group, those that entertain are still the most popular for frequent viewers. 78% of survey respondents who watch online video several times per month cited "entertains me/enjoyable" as the reason they watch online video, followed by "makes me laugh" (71%). In third place was "learn something new" (64%).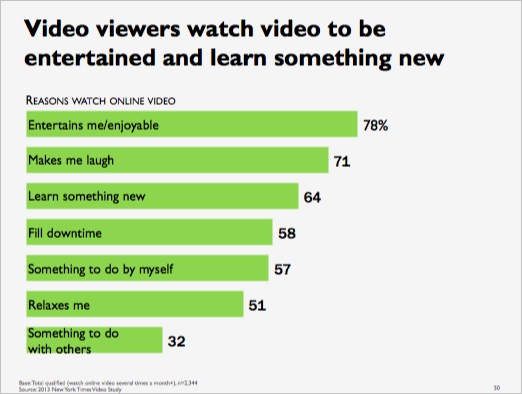 In addition, 7 of the top 10 video topics these frequent viewers cited were also entertainment-related, with "funny video clips" cited most often (52%), followed by "movie clips" (46%) and "music videos" (39%). The first non-entertainment topic cited was "news/current events" in fourth place with 35%. However, even for news the main reason viewers cited to watch video rather than read, was "to be entertained" (50%).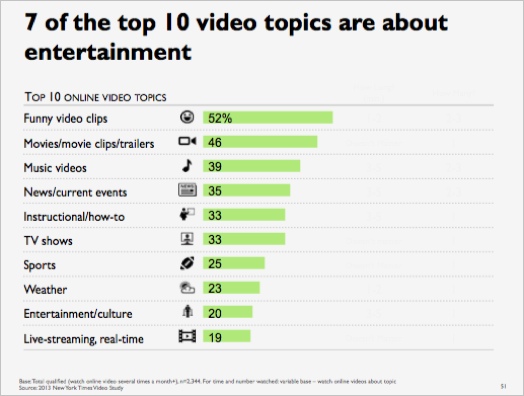 Viewers' preference for entertainment in content also extends to advertising, with their top 2 preferences cited as "make them laugh" and "entertain them." And it also extends to why they share online videos, with 69% citing "I like to entertain people" as the main reason for sharing a video.

Despite the rise of Netflix, Amazon, Hulu and other SVOD providers, viewers also seem to still mostly prefer short videos. With the exception of movies, TV shows, sports and live-streaming, all of the other video topics in frequent viewers' top 10 are 5 minutes or shorter, with "funny video clips" topping the list.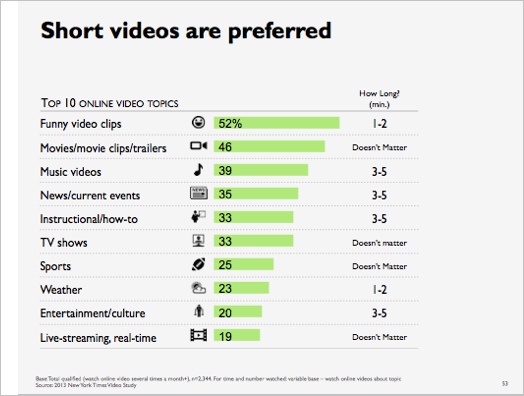 The NY Times research also found that among frequent online video viewers, 25% are watching less broadcast TV than a year ago. The top reason cited for watching less broadcast TV was "I have less time to spend watching TV" (43%), followed by "cable TV is too expensive" (36%) and "I watch more online video" (35%).
The tradeoffs were most notable among millennials, 10% of whom said they now watch "no TV," 24% saying they watch "mostly online video," 19% saying they "watch equally" and 46% still "mostly TV." Millennials cited "access what I want right away" (56%) most often, followed by "I can watch an entire series/multiple episodes online (49%) as the main reasons they're watching more online video. Millennials were also the most frequent online video viewers, with 50% saying they watched either daily or multiple times/day.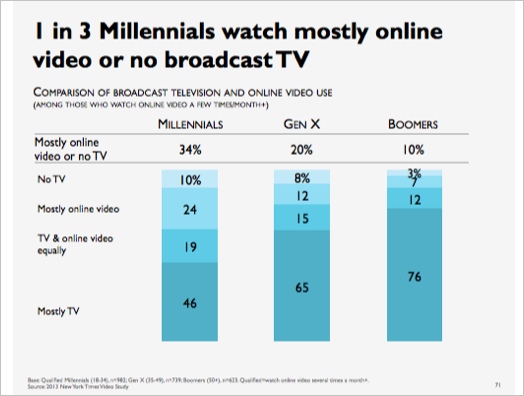 There are lots of other interesting data points in the full slide deck (which unfortunately is not available online), but another that really caught my eye is that among frequent viewers, 42% watch only or mostly professional video, while 39% watch professional and amateur equally and 17% watch only or mostly amateur video. Coupled with YuMe//IPG Media Lab's recent research showing UGC just narrowly trailing TV shows in popularity for millennials, the NY Times data seems to reinforce the notion that unlike TV, online video will not be solely the province of Hollywood studios.

The NY Times survey was fielded by Knowledge Networks and included 4,000 respondents.