Monday, September 16, 2013, 7:10 PM ET
|
Last week Piksel (formerly KIT Digital) released results of one of the first consumer surveys to address the phenomenon of "binge" video viewing. Among findings: fully 94% of respondents are engaging in some level of binge viewing, either by quickly immersing themselves in as many episodes of a new series as possible, watching 1-2 episodes every few days (what Piksel calls "sippers"), or combining these two habits (see chart below).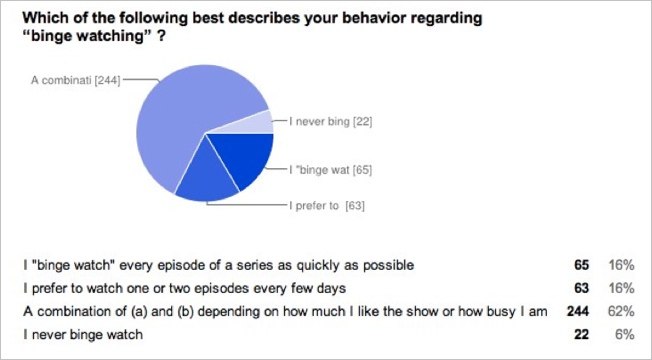 The findings provide some directional metrics around a subject that's captivated many in the video business. The practice of releasing an entire season's worth of episodes - as Netflix has done with originals including "House of Cards" and "Orange Is the New Black" has turbo-charged the binge-viewing model. The Piksel survey even uncovered a new concept of "binger's insomnia" - staying up way too late to catch the first 15 minutes of the next episode of a show that's being binge-watched. 65% of respondents said they have done just that.

No surprise, Piksel also found a strong preference for the all-at-once release model. 64% said they favor the approach of having all episodes from a series available at once, versus 13% who prefer the traditional once-a-week release pattern. 23% had no preference.

Side note: Piksel, which helps companies enable online, social and mobile video implementations, sees binging behavior as part of a broader embrace of time-shifted viewing, noting just 11% of respondents said they exclusively watch television live. That plays into Piksel's belief that that "the future of second screen will consist of curated experiences that happen before or after the viewer watches the show."

Of the survey's 394 respondents, 62% were male, 44% work in the media/advertising industries, 72% were US-based, 65% were between age 25-44 and 71% had income over $75K/year.

The survey results are available here.