Tuesday, July 7, 2015, 11:14 AM ET
|
With binge-viewing becoming a mainstream activity, there's more and more energy being devoted to understanding the behavior and how to profit from it. The latest comes from video optimizer Conviva, which has published a white paper, "Binge Watching: The New Currency of Video Economics," detailing findings from a survey of 750 binge-viewers between the ages of 25-36.
The survey found that compared with traditional TV, where viewers might watch many different shows in the course of a week, binge-viewers watch only a small group of shows in any one sitting. According to the survey, 41% watch just 1 series, 24% watch 2 series, 22% watch 3 series, 10% watch 4-7 series and then the real outliers of 2% and 1% watching 8-9 and 10+ series respectively.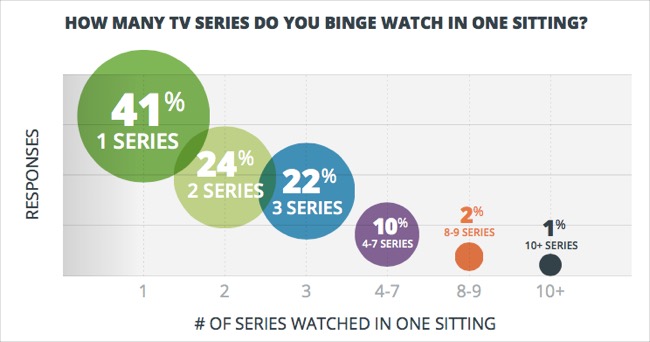 Streaming is by far the most popular method, with 61% of respondents saying this is how they binge, followed by 11% for download/watch offline and 28% doing both. Computers are the most popular device to binge on (60%), surprisingly followed by pay-TV (37%), then connected TV device (36%), tablet (32%), smartphone (26%) and game console (25%). These numbers contrast sharply with results from TiVo's binge-viewing study released last week, likely because TiVo's respondents were TiVo users and therefore tilted their binge-viewing behavior toward that device.

The Conviva survey also revealed insights how binge-viewing behaviors relates to the quality/availability of desired TV shows. For example, 76% of viewers will give up on a show within 4 minutes if there is poor resolution or frequent interruptions. And if a desired episode isn't available, 42% will start another series, with 25% looking elsewhere for the desired episode and 22% waiting for it to become available.

Once binge-viewing begins though, there's strong loyalty: 74% of bingers said it's "likely" or "very likely" they would return to finish a series later if they temporarily stopped watching it.

Conviva contrasts binge-viewing on OTT with traditional appointment TV, and asserts that the most valuable video properties will be those that are binge-viewed by loyal audiences. This translates into improved subscription opportunities, more targeted ads and diverse ancillary revenue streams.