Thursday, February 20, 2014, 10:50 AM ET
|
TiVo's 2013 Millennial Video Entertainment survey reveals that 72% of millennials use free video streaming sources like Hulu, YouTube and network TV sites, making these the most-used source for their video viewing. In second place, cited by 60%, were SVOD services like Netflix, Amazon Instant Video, Hulu Plus and HBO Go. Just behind SVOD is physical media, cited by 59%, followed by pay-TV in fourth place with 46%.

Millennials' viewing sources differ dramatically vs. all other generations, where pay-TV was the most-used source (with 58%), followed by physical media (56%) and free streaming/SVOD tied for third place with 40%. For both millennials and all other generations, individual purchases, free downloads, antenna and other lagged much further back in usage.
The survey also revealed that traditional TV series are millennials' favorite type of content, with 22% of viewing time, followed by other activities such as YouTube, gameplay, classes, etc. with 17%, sports and movies each tied at 14%, UGC (12%), music videos (11%) and non-sports live events (9%). The TiVo survey also found that 14% of respondents said they have a growing appetite for TV programs, followed by 8% for UGC.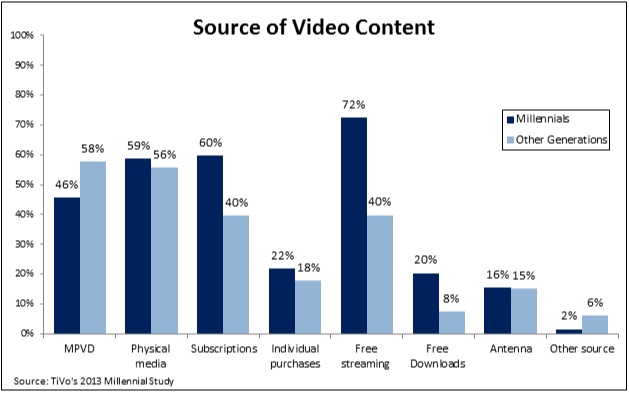 An unrelated study, by YuMe and IPG Media Lab, last November also found that TV shows are millennials' favorite type of video, cited by 37%, though that study found that UGC was a close second with 33%.

For pay-TV operators, millennials' usage patterns raise concerns about "cord-nevering" - the idea that young people will acclimate themselves to mainly online video sources and therefore never decide to subscribe to expensive pay-TV services when they have their own housing. Possibly offsetting this, the strong appeal of TV programs suggests that pay-TV operators' TV Everywhere initiatives could prove very valuable in appealing to millennials comfort with viewing on multiple devices.

The TiVo results are based on an online survey of 3,704 people, ages 13-74, conducted between November 26 - December 15, 2013.