Thursday, June 4, 2015, 11:17 AM ET
|
A new survey from Unruly reveals that 70% of U.S. advertisers have shifted a portion of their TV ad budgets to programmatic online video ads in the past 12 months (see graph below). In addition, 75% of U.S. advertisers said that programmatic will account for a share of their overall online video ad budget.

The data is based on a survey of 1,000 senior advertiser and agency executives, 500 each in the U.S. and U.K. from March, 2015. It is one of the strongest endorsements yet for the adoption of programmatic video advertising.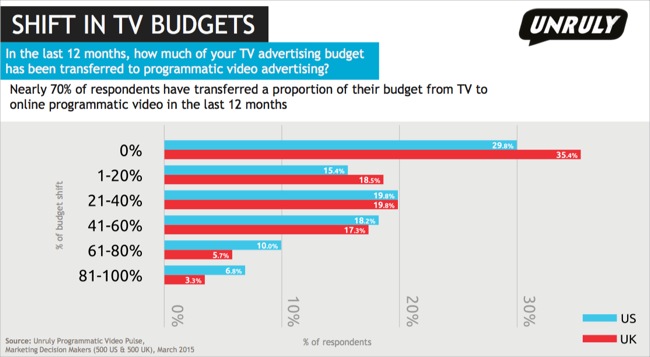 Emotional/psychographic targeting was cited as the most desired capability in programmatic video ads by U.S. respondents (34%) followed by demographic targeting (28.3%), prospect-based targeting (27.1%) and behavioral targeting (23.3%).

Despite the growing adoption of programmatic video ads, U.S. respondents cited ongoing concerns. At the top of the list, cited by 20.8%, was quality of inventory, followed by low levels of viewability (17.7%), skills gap and lack of internal expertise (158%) and ad fraud/bots (15.8%).
In addition, U.S. respondents highlighted key gaps for programmatic video ads, with targeting not necessarily leading to offline sales leading (45.1%), followed by targeting not necessarily resulting in engagement with content (38%).

Viewability and completed views were cited as the top ways to measure of programmatic video ad success by respondents (24.7%), followed by views (23.9%) and interaction rate (22%).

The full survey results are available for complimentary download.

Note, for those interested in digging deeper into programmatic, we'll have 2 sessions on the topic at the June 16th VideoNuze Online Video Ad Summit, one from the sell side and the other from the buy side. Learn more and register now!