Thursday, December 5, 2013, 9:42 AM ET
|
Digitalsmiths has released its quarterly survey on consumer behavior around pay-TV and VOD, finding that consumers are continuing to "cord cheat," with 48% supplementing their pay-TV subscriptions with OTT services, up from 35% reported in Q2 '13. Most popular for these consumers was Netflix (42%), while for individual movie rentals Redbox kiosks took the lead at 17%.

Digitalsmiths believes cord cheating is a big threat to pay-TV providers and said they must adapt and better support consumer expectations. According to the survey, the top reasons consumers are choosing OTT services like Netflix, Hulu or iTunes are because they are more convenient (53%), cheaper (48%) and allow full season TV viewing (31%).
The survey also found that almost 29% of consumers are using third-party pay-per-rental services such as Redbox kiosks and iTunes rather than use VOD from their pay-TV provider's service. In fact, about 73% of respondents said they never purchase from their pay-TV provider's VOD catalog at all. Only 26% said that it was easy to find a movie in their pay-TV operator's VOD catalog.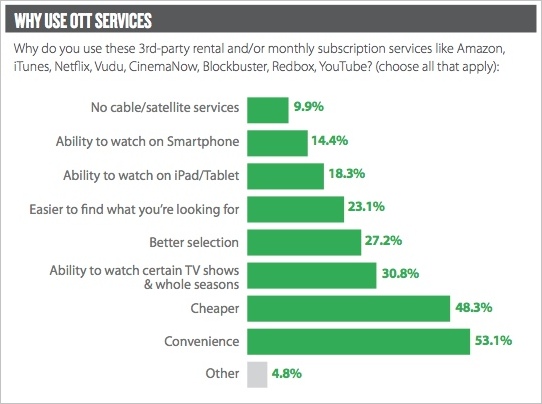 Another interesting finding is that many consumers are still not aware of TV Everywhere, with 52% saying they did not know if their provider offered an app, the same level as in Q2. Similarly, only about 20% of respondents said they have actually downloaded their pay-TV provider's TV Everywhere app on their tablets and/or smartphones. Issues like authentication, lack of content and unavailability of viewing outside the home all contribute to low consumer awareness and adoption.

That's not to say consumers are uninterested in viewing content away from their TVs. Rather, they just appear to be interacting directly with the content owners' apps. Of tablet and smartphone users, 31% have downloaded 1 or more apps from a TV network, with ABC the most popular at 7.9% of users. Once again, finding the precise show or series may decide where consumers go to find content - either OTT or their pay-TV operator's VOD catalog.

The report includes many more fascinating details, including more on how consumers are watching TV on devices, the role of content discovery and more specific TV viewing habits.

The survey included 3,177 consumers in the U.S. and Canada and is available for download here.