Wednesday, May 6, 2015, 10:46 AM ET
|
There's more data this morning on how young millennials are switching from traditional TV to online video. Limelight Networks has released new survey data finding that approximately 60% of 18-25 year-olds report watching at least 4-7 hours of online video per week. The results contrast with all 18+ adults, where less than 40% said they watched at least 4-7 hours of online video per week.

In addition, less than 20% of 18-25 year-olds said they watch just 1-2 hours of online video per week, whereas nearly 40% of all 18+ adults said they watch 1-2 ours of online video per week.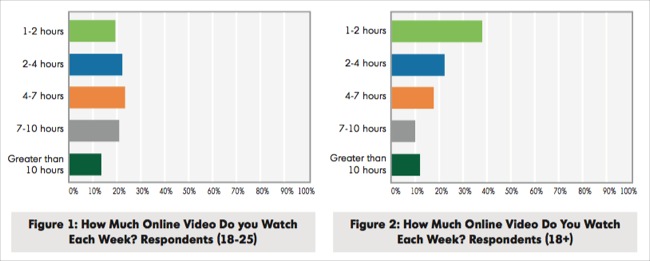 No surprise given the explosion of OTT options, Limelight also found significant vulnerability for pay-TV bundles, with 90% of respondents saying that under the right circumstances they could envision cutting the cord. Of course the most-cited reason was cost-related ("because the price keeps going up," cited by 38%), with "when I can directly subscribe to the channels I want online" next at 16%.

Limelight also found that the desktop is still the most popular way to watch online video, with smartphone and tablet coming next, followed by Smart TV and other. For connected TV devices used, 18-25 year-olds cited Xbox most often, followed by Smart TV, whereas the whole 18+ universe flipped the two. In both cases, Roku, Apple TV, Chromecast and Sony PS4 were next.

Facebook scored by far the highest of all social media outlets for sharing videos, followed by YouTube and Twitter. TV shows and movies are the most popular types of content watched online, followed by original content/YouTube, News and Gaming videos.

Video buffering was cited as the most frustrating aspect of watching online video, followed by poor quality, waiting for playback to start and device incompatibility.

The survey also revealed how important control over advertising is to viewers, with 71% saying they're OK with ads as long as they have the ability to skip them and 42% saying they're OK as long as "I'm interested." 60% of respondents found ads disruptive, with just 33% saying they're OK.

The survey was conducted in April, 2015 among 1,200 respondents.

The full report is available for complimentary download.