Monday, March 31, 2014, 10:09 AM ET
|
Conviva has released its 2014 Viewer Experience Report, finding that of the 45 billion video views in 2013 that it analyzed, 26.9% were impacted by buffering, an improvement from 39.3% in 2012, while those impacted by low resolution delivery also improved, to 43.3% from 63% in 2012. Offsetting these was a rise in video start failures from 4% in 2012 to 4.8% in 2013.

As consumers shift their viewing to online from traditional TV, they bring along expectations of the seamless experience, so the Conviva data is critical to understand how well these expectations are being met. In fact, Conviva found that online viewers expectations are actually rising as they shift to online.
For example, Conviva found that a 1% increase in buffering reduced viewing time by 11 minutes in 2013, as compared with 8 minutes in 2012 and just 3 minutes in 2011. The average time for watching movies drops from over 50 minutes in low buffering HD to less than 5 minutes with a high degree of buffering. For sports, the average viewing time drops from over 40 minutes in HD to 1 minute with high buffering. Conversely, viewers have the most tolerance for lower quality delivery for episodic TV.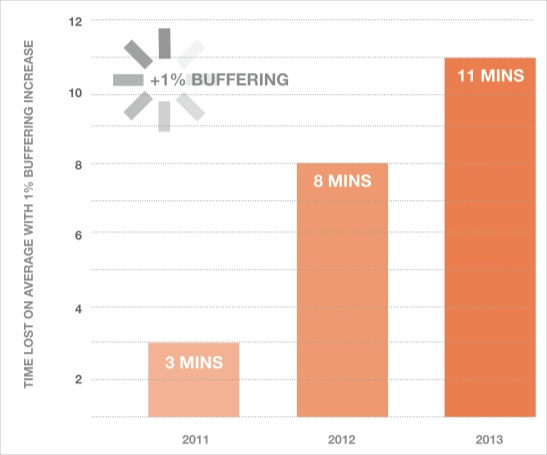 For short-form content, news is virtually unaffected by buffering, while sports is most impacted, with average viewing times doubling with HD.

In addition to quality, Conviva also found that streaming is continuing to shift to multi-screen, with the number of concurrent streaming devices rising by 28% in 2013. This suggests an increase in personal vs. shared/family viewing.

Conviva also studied device usage by time of day. Among other things it found that in prime-time, connected TVs dominate, with 36.6% of all video streamed, while in the morning mobile devices have the edge, and mid-day, desktops do (that means you, if you're watching at work!)

The 45 billion video streams Conviva analyzed were viewed on over 1.6 billion individual devices and on over 400 premium video players.

The report is available for download here.

(Note: Conviva is a VideoNuze sponsor)