Tuesday, July 14, 2015, 5:59 PM ET
|
Revenue in the U.S. from premium OTT services could double or triple from $4 billion in 2014 to $8-12 billion in 2018, according to new research study from Ooyala and Vindicia, which was conducted by MTM.

The study, based on input from 45 content and service providers, forecasts that just a small number of OTT providers, mainly existing ones, will dominate. Netflix is seen as the biggest of the group, although its market share will decline from 85% currently to approximately 50% in 2018. However, respondents were optimistic about the opportunity for niche OTT providers such as sports, kids, specialized entertainment and personality-drive services where they foresee 15-20 providers each having over 100K subscribers.
Respondents also saw a bigger role for pay-TV operators in bundling and distributing OTT services, alongside or instead of traditional multichannel video services. We have seen the start of this happening with a number of smaller operators offering Netflix plus Cablevision and others offering Hulu.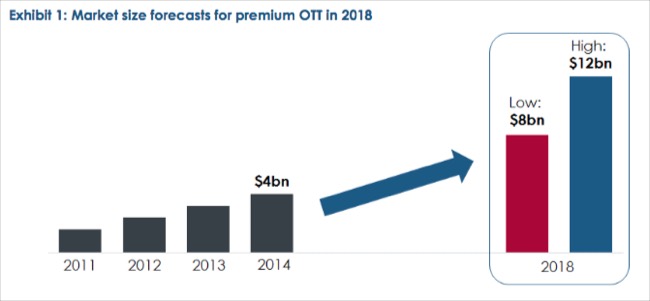 MTM sees key enablers for OTT's growth over the next few years as wide availability of broadband infrastructure and connected devices, consumers' willingness to pay for content, scale of the U.S. market, strong startup ecosystems and payment infrastructure plus Netflix's role as pioneer in stimulating OTT interest.

Respondents believe that content will be the main differentiator between various OTT those that own their own content being advantaged. Niche services will benefit from reduced technology costs, social networks/targeting reducing advertising expenses and niche content being available. Challenges include low margins, breaking through in a noisy environment and consumers' unwillingness to subscribe to more than a few OTT services.

The full study is available as a complimentary download.