Monday, November 14, 2011, 9:56 AM ET
|
Let's face it: few people savor the idea of snuggling up with their desktop or laptop computer to watch long-form video entertainment. So even as online video consumption has surged, the industry is challenged by the fact that the vast majority of viewing is still locked to the computer. Now however, as video viewing via tablets along with connected devices and game consoles that allow TV-based viewing are beginning to go mainstream, new data from Ooyala suggests that engagement and session lengths are increasing as well. This is a positive sign for everyone involved in the online video ecosystem - brands, advertisers, content providers, distributors and device makers.
Ooyala's first "VideoMind Video Index Report" for Q3 '11, is gathered from an anonymous global cross-section of the company's customers and partners, spanning 100 million unique viewers per month. The downloadable report is chock full of interesting data, but the early evidence it contains about shifting viewership behaviors with new devices is the most significant in my opinion. As shown in the chart below, viewer engagement (as measured by percentage watched) was highest for tablets, followed by mobile devices, connected TVs/game consoles and finally desktops. Predictably, view-through to completion declines for all devices, but for tablets the completion rate is almost double the rate for desktops.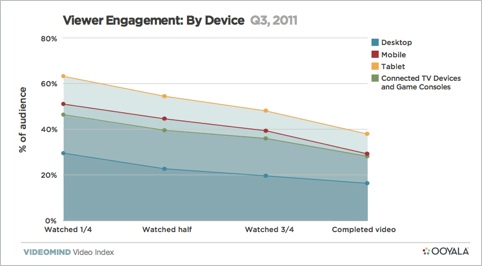 This also translates for average content length viewed. As the chart below shows, videos 10 minutes or longer comprised a whopping 75% of the hours watched on connected TVs/game consoles, 42% on tablets and 30% on mobile devices, yet just about 30% for desktops. Conversely, clips under 3 minutes accounted for 52% of desktop hours viewed vs. only 6% for connected TVs/game consoles. The conclusion from this is that surfing short videos is the norm when online on a desktop or laptop (e.g. watching short, funny YouTube videos), but when it comes to longer entertainment-oriented experiences, tablets and big-screen TV viewing is where it's at.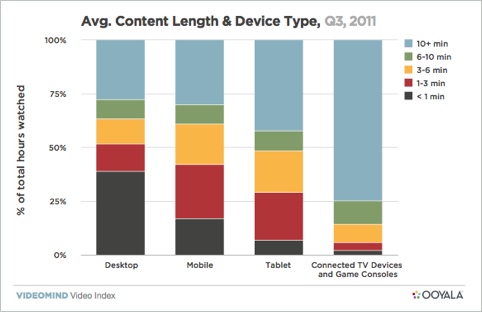 The caveat to all of this is that it's still very early days for non-computer video consumption. Ooyala specifically says that "desktops account for the bulk of total displays, total plays and total number of hours watched." That will remain the case for some time to come. However, as I wrote last week in "This Holiday Season, Video Apps' Purpose is to Sell Devices," there's a huge push underway to have premium-quality video drive purchases of devices (e.g. Kindle Fire, iPad, NOOK Tablet, Roku, etc.). As consumers become more and more acclimated to using these devices for watching video for long-form entertainment, the Ooyala trends should play out even further.
All of this signals that online video is maturing, poised to move beyond the desktop as the primary consumption device. That's good news for everyone in the video ecosystem.
(Note: if you're looking to learn more about how consumers are adopting devices and shifting their viewing behavior, join us at VideoSchmooze: NYC Online Video Leadership Forum on Wed. morning, Nov. 30th, which will feature a panel with executives from Comcast, CBS Interactive, Roku and Irdeto discussing how to succeed with multi-platform distribution.)