Tuesday, January 20, 2015, 3:16 PM ET
|
Here's more evidence of how watching TV programs is changing: according to part two of a TV viewer survey fielded by NATPE and CEA, 71% of respondents said they have streamed full-length TV programs in the past 6 months. No surprise, Netflix was the go-to source, with 40% having watched there, followed by 26% for YouTube and 25% for network web sites.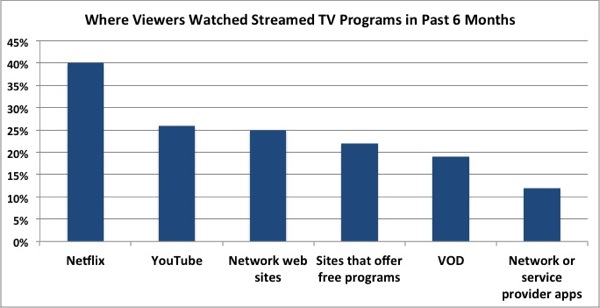 The types of programs watched vary by age group, with comedy tops among millennials (cited by 74%), and movies tops for Gen Xers and Boomers (76% and 75% respectively). Boomers exhibited the highest level of interest in live programming, with 77% citing it as their first choice for TV viewing, compared with 62% for GenXers.

In addition, 56% of respondents said they are now watching a greater variety of TV programming, with 60% of millennials saying they are. 66% of respondents who are SVOD subscribers said they have increased their TV viewing due to their ability to stream and 60% of SVOD subscribers said "there are more high quality programs available" (compared to 51% for non-subscribers).

The data is based on an online national survey of 1,639 adults age 13-64 fielded the first week of November, 2014.