Thursday, November 20, 2014, 12:38 PM ET
|
Sandvine has released its latest Global Internet Phenomena Report based on data collected in March, 2014 across leading wired and mobile broadband networks. Focusing just on North America, Netflix once again dominates primetime usage, accounting for 34.9% of downstream bandwidth, more than the next 6 services combined. YouTube was second with 14.04% of bandwidth.

It's a different story on mobile however, where YouTube remains the top downstream provider, eating up 19.75% of bandwidth, up from 17.7% a year ago, with Netflix in 5th place with just 4.51%. The usage pattern largely reflects the difference between Netflix's long-form content focus vs. YouTube's short-form focus. YouTube's CEO Susan Wojcicki recently disclosed that 50% of YouTube's usage is now on mobile.
Mobile data is of course far more expensive to users on a per bit basis in North America, so it's natural that they would maintain their long-form viewing on wired networks. In fact, Sandvine found that median wired usage was 22.5GB in March, 2014, up from 17.6GB in 2013. This dwarfed mobile median usage which was 118MB in March, 2014, up from 102MB in 2013.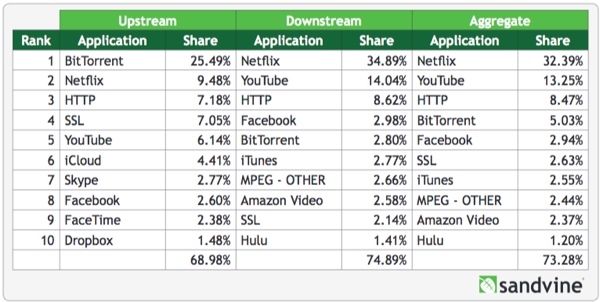 Sandvine noted that Amazon's share of wired downstream bandwidth increased to 2.6%, placing it 8th among top providers, even though it's not yet available in Canada. Hulu placed 10th, with 1.41%.

In mobile, Facebook ranked just behind YouTube, with 19.05% of bandwidth, which Sandvine attributes to Facebook's autoplay video and video ads features in users' news feeds. Facebook began rolling this out last September and December respectively. Sandvine said that for one broadband network in its universe, auto play drove a 60% increase in Facebook bandwidth per user.

The full report is available for complimentary download.