Wednesday, June 19, 2013, 10:33 AM ET
|
Online video platform provider Ooyala has released its Q1 '13 Global Video Index, showing, among other things, that mobile devices (smartphones and tablets) accounted for more than 10% of online video views in the quarter, a new record. The total share of tablet video viewing alone grew by 33% in Q1.

It's not just the number of views that are up for mobile, but also time spent: watching long-form video (10 minutes or longer) on mobile devices grew from 41% of all time watched in Q1 '12 to 53% of all time watched in Q1 '13, an increase of 29%. Digging in deeper, for tablets, 25% of all viewing time was for content 60 minutes or longer.
One thing the Ooyala report does not get into is where all of this mobile video viewership is occurring. However, recent data from Leichtman Research Group indicated the vast majority of it actually occurs at home (63% for smartphones and 89% for tablets). This seems especially right for longer-form viewing, since home-based mobile device viewing allows users to avoid expensive mobile data rates, as I've written about previously. It also underscores why Comcast's announcement last week of an additional WiFi signal for its broadband subscribers (effectively doubling in-home bandwidth at no extra cost) will be great to spur more in-home mobile video use.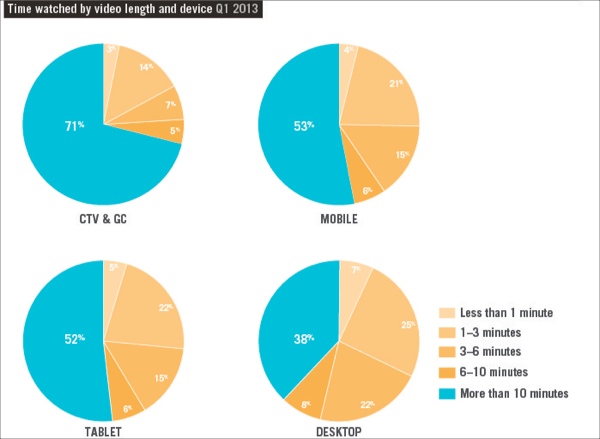 Ooyala also noted continued engagement time dominance of live video vs. on-demand. This was most dramatic for desktop viewing where live was 13x on-demand, but also for tablet where it was 4x. Viewers watching via connected TVs and gaming consoles had live average viewing time of 45 minutes. Live includes sports, news and other events which have become quite popular. Even though live dominates in engagement times, on-demand still dominates in total video views, as comScore data notes each month.

In the Q1 report, Ooyala also highlighted data from the Asia-Pacific region specifically, breaking out live and long-form viewing by country across the region.

The full report can be downloaded here.