Tuesday, August 21, 2012, 10:25 AM ET
|
Nearly 90% of connected TV viewers notice ads when they're watching video, and 66% of them are likely to interact with the ad according to a new study released this morning by video ad management/network YuMe and researcher Frank N. Magid Associates. The study, which included 736 connected TV users, is being called the most extensive research yet done on the burgeoning connected TV sector and underscores emerging advertising opportunities for brands to connect with viewers.
Of the ads that are noticed, 57% are pre-rolls, followed by mid-rolls (50%), companion display ads (36%) and overlays (31%). 13% of respondents didn't notice any ads. For short-form video and TV shows, connected TV viewers prefer a free, ad-supported model to subscriptions. That changes for movie watchers who narrowly prefer subscriptions. The types of interactions with ads varies, with "Liking" a brand most common (32%), followed by using the remote to get more information (26%), using the remote to visit a web site with more information (24%), and using the remote to watch a longer version of the ad (23%). Of those seeing an ad, 34% took no action.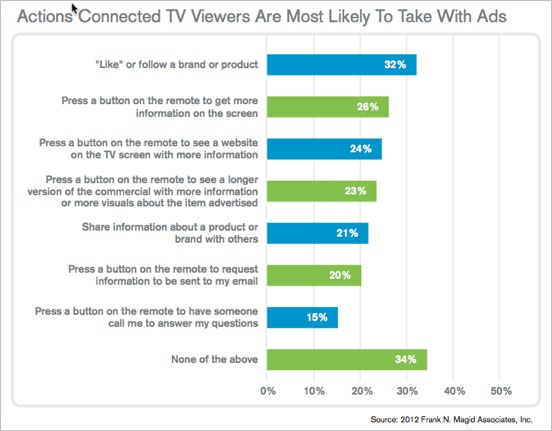 Of the various choices consumers have for connecting their TVs to the Internet, gaming consoles dominate, with 77% of respondents using them, followed by Blu-ray players (34%), SmartTVs (28%) and streaming devices like Roku, Apple TV, etc. (25%). In addition, 28% use more than one device.

As far as what consumers are watching, TV shows and movies are about as popular as short videos. Not surprising, the top 4 connected TV apps serve this type of content, with Netflix the most frequently used, cited by 52%, followed by YouTube (47%), Hulu (28%) and Amazon Instant Video (19%). Since Netflix and Amazon are ad-free, their usage doesn't count toward the ad-specific research. In terms of the number of ads viewed by respondents, Travis Hockersmith, YuMe's senior director, client strategy, told me that display ads from device manufacturers like Samsung and LG were actually the biggest contributors, while Hulu was the biggest contributor of video ads.

In terms of who connected TV consumers are, the study found their mean age to be 34, with 58% men and 44% non-white. Only 7% of these consumers live alone, with multiple members using the connected TV in 90% of homes. The study depicts 4 different "profiles" of connected TV users, "Gamers," "Movie Fanatics," "Entertainment Junkies" and "Trendsetters." Connected TV behaviors were found to change by depart, with primetime mainly focused on TV shows and movies, as expected.

There are many more details in the report itself, which is downloadable here. With the proliferation of connected TV devices, industry forecasts are bullish on penetration continuing to grow. For advertisers in particular, this is an area of keen importance as they seek to participate in viewers' emerging experiences. The YuMe/Magid research is the most significant to date and there will no doubt be a lot of follow-on research to come.
(Note: YuMe is a VideoNuze sponsor)