Friday, October 18, 2013, 6:07 PM ET
|
Market researcher IHS has released its first study of TV Everywhere deployments in the U.S., finding that 73 different cable networks are now allowing authenticated online/mobile access for on-demand viewing. Per the chart below, NBCU leads among the ad-supported segment, with 15 of its 18 networks offering some TVE VOD option, followed by Time Warner (Turner) with 9 networks and News Corp. and Viacom each with 6. Discovery is the only major cable network group not yet offering TVE, but IHS expect that to change soon.
IHS notes that on-demand remains the most popular form of TVE, but that live linear streaming has been gaining, with 31 networks now offered this way (NBCU and Disney account for a third of this, with 5 networks each). No surprise, IHS observes that rights are the top impediment to broader rollouts.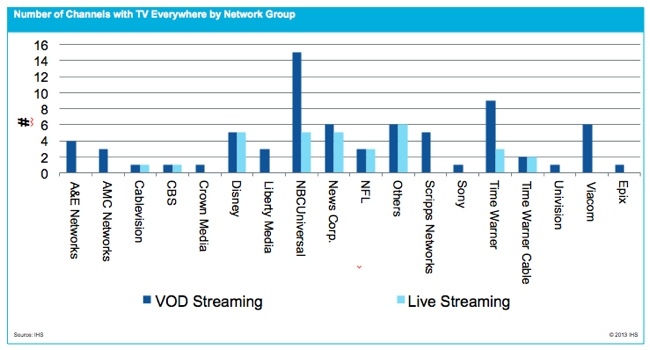 Among premium TV networks, HBO, Cinemax and BTN2GO are the only ones that have authentication agreements with all major pay-TV operators. Showtime is the only one that offers live streaming. And EPIX and HBO are compatible with the most devices. Beyond the desktop, the devices with highest compatibility for TVE are iOS and Android, no surprise, followed by Kindle Fire and Xbox 360.

IHS also found that all major pay-TV operators are now offering TVE, though to differing extents. For out-of-home viewing VOD dominates, with live linear streaming mainly in-home only (exceptions being among Disney, NBCU and News Corp.). Only DirecTV, Verizon, Time Warner Cable and Cablevision are allowing out-of-home live linear, and this is mainly for smaller niche networks.

Despite the fits and starts of TVE to date, IHS expects it will grow in the future as more rights are obtained and as tablet and smartphone viewing builds. IHS sees TVE as a key priority to enhance the traditional linear TV experience without any additional charges and to preempt the risk of cord-cutting. Still, as the data shows, TVE deployments are very heterogeneous today by network and operator; we're still a very long way from any type of consistency. This is an advantage that nationwide OTT operators like Netflix, Amazon, Hulu and others enjoy.