Thursday, August 2, 2012, 10:09 AM ET
|
The Olympics is currently dominating the sports world's attention, but have a look at comScore's first half 2012 data (chart below), and what jumps out is that 2 of the top 4 properties aren't well-known branded destinations, but rather little-known video syndicators, Perform Sports and CineSport.

Perform is #2, with 14.6 million average monthly unique viewers, trailing predictable leader ESPN, which has 20.5 million. And CineSport is #4 with 11.4 million average monthly unique viewers, behind #3 Yahoo Sports, which has 12.4 million. Following them are properties you'd expect to see on any top 10 list: Turner Sports, MLB, Fox Sports, NBC Sports, NFL and CBS Sports.
Unlike the branded destinations, Perform and CineSport instead license sports content from leagues and others, and then distribute the video to a wide array of 3rd party sites, primarily newspapers. Broadening its focus, CineSport also produces original video and recently launched a video platform called VaMP, which allows distribution partners to easily incorporate video into their text-based sports coverage.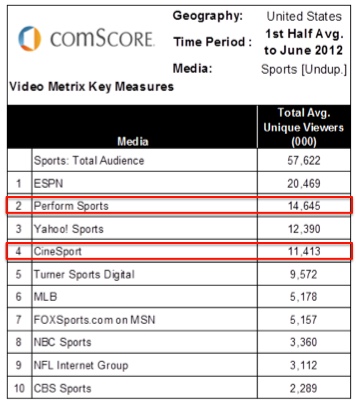 Both Perform and CineSport are leveraging what I've previously called the "syndicated video economy" model, whereby video is distributed widely to audiences wherever they are, as opposed to driving them to come to a certain destination. That traditional model still works well for heavily branded sites like ESPN and Yahoo Sports. But Perform and CineSport are succeeding because they satisfy 3rd party sites which are hungry for high-quality video that users and advertisers both desire. I don't see these dynamics changing anytime soon, suggesting both Perform and CineSport have lots of running room ahead.