Wednesday, December 8, 2010, 10:26 AM ET
|
Yesterday I posted a short 4-question survey following up last week's VideoSchmooze panel discussion of how connected and mobile devices are transforming the video landscape. Below are the results along with my short reactions plus how I would have voted on each question.
Question 1: Do you agree with the VideoSchmooze panelists that connected and mobile devices are mostly additive to the traditional pay-TV model, or do you think they are mostly disruptive to the traditional pay-TV model?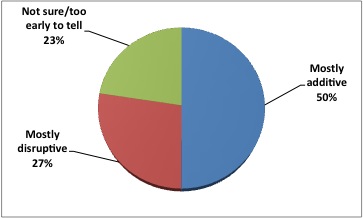 My reactions

: Despite all the media coverage this year that new devices spell the demise of the pay-TV industry with rampant cord-cutting just ahead, readers seem to agree with the panel that instead they are mostly additive. While there's no doubt that that they present a significant challenge to incumbents, there is also early evidence that pay-TV operators are broadening their mindsets and trying to incorporate these devices into the experiences they offer (Comcast's new Android app unveiled yesterday is just the latest example). I would have voted "not sure/too early to tell" primarily because aside from the biggest pay-TV operators, there are a lot of others that aren't embracing new devices at all. It remains to be seen how aggressive these operators will be and as a result what devices' impact on the whole pay-TV industry will be.
Question 2: Do you agree with the VideoSchmooze panelists that the ad load/frequency in online-delivered video will ultimately resemble traditional TV? Or do you agree with others like Hulu's Jason Kilar that it should be half the ad load, but twice the CPM?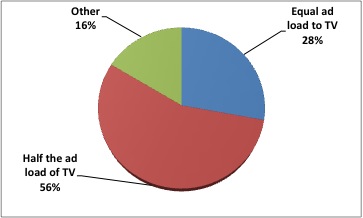 My reactions:

VideoNuze readers disagree with the panel that online video advertising will evolve to look like TV. The key to me is whether the model for fewer ads and higher revenue per ad can be proven in and scaled up. I've been encouraged by all of the innovation around online video ad formats and the better branding/engagement they drive, but it's still very early and the media buying ecosystem is still focused largely on TV-oriented metrics of reach and frequency. I hope this changes, since as I pointed out during the session, current DVR users' will be quickly turned off to online video if they find it carries all the ads they're accustomed to skipping. Still, content providers need an ROI, so a balance must be found. For now I lean toward the "half the ads" answer, but tepidly.
Question 3: The VideoSchmooze panelists were enthusiastic about the role of social media with video, but acknowledged that today this mostly happens through multiple screens (TV, online and mobile). Do you think that social media will be integrated into the same screen experience where video is consumed (like Google TV for example) or do you see it remaining more of a multi-screen play?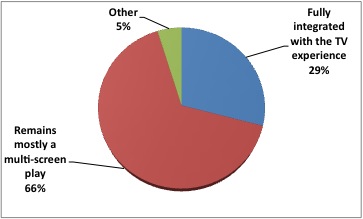 My reactions:

Readers appear skeptical at this point that full social media experiences will move to the TV, meaning that online and mobile will continue to play a big part in interactivity. If this occurs, expensive, integrated devices like Google TV would be challenged to succeed. Is the issue reluctance to have a keyboard in the living room? Price? A behavioral disconnect? All of the above or something else? It's not clear to me. The good news is that interactivity can still flourish with a multi-screen model. Short-term I'd agree with readers, but long-term I believe the TVs themselves will offer fully integrated social media experiences.
Question 4: What kind of company do you work for?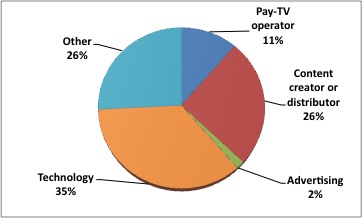 My reactions:

Looks like we had a pretty good cross-section of readers represented. Keep your feedback coming!
What do you think? Post a comment now (no sign-in required).