Monday, August 27, 2018, 10:31 AM ET
|
Major SVOD services' popularity continues to expand, with new research from Leichtman Research Group finding that 69% of U.S. households now subscribe to either Netflix, Amazon Prime and/or Hulu. That's up from 64% last year and 47% in 2014.

Also noteworthy is the rise of multi SVOD service households. LRG found that among SVOD households, 63% now access more than 1 SVOD service, which is up from 38% in 2015. That means that 43% of U.S. households now access more than one SVOD service, more than double the 20% rate from 2015.
But the major caveat here is that these are access rates, not subscription rates, meaning many of the multi service households are driven by password sharing that is rampant in the industry. Another important factor is that Amazon Prime itself isn't a pure-play SVOD service, as many still subscribe to it for shipping plus the numerous other benefits Amazon has stuffed into the service over the last few years.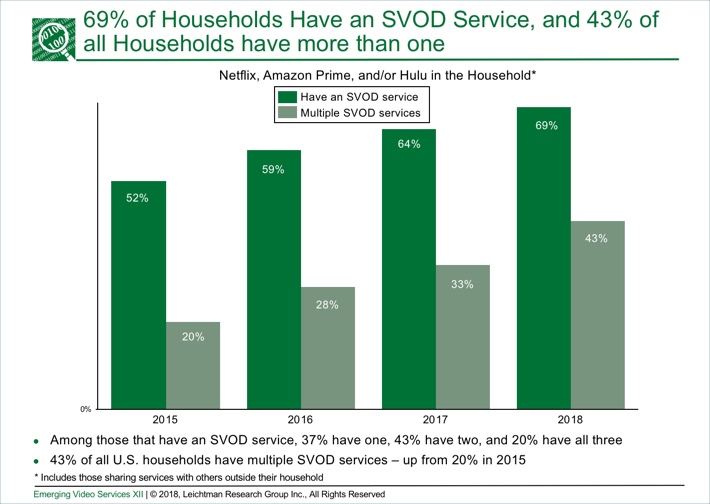 LRG around that 28% of those with Netflix said their subscription is shared with others outside their household. For Hulu it was 22% and for Amazon Prime it was 10%.

To what extent SVOD households will actually subscribe to more than 1 service is a pressing issue for industry executives given the explosion of SVOD services. For those outside the big 3 of Netflix, Amazon and Hulu to have a chance of success, growing multi service households is imperative.

LRG also found that daily SVOD usage was pretty much flat vs. last year, with 30% of adults streaming daily in '18 vs. 29% in '17. A big bump up had occurred following '15 when it was just 16%. Daily viewing continues to skew to younger audiences, with 52% of 18-34 year-olds watching daily vs. 31% of 35-54 year-olds and 11% of 55+ year-olds.