Thursday, April 14, 2016, 11:34 AM ET
|
Here's a measure of how dominant the big three SVOD services (Netflix, Amazon and Hulu) are in the US: according to new OTT data from Parks Associates, just 5% of all broadband homes subscribe to one or more of the 98 SVOD services available in the US aside from the big three. Among the 98 services Parks counted are high-profile offerings like HBO Now, CBS All Access and Sling TV.

At the end of 2015, there were approximately 96.3 million broadband homes in the US, according to Leichtman Research. So that would mean that about 4.8 million broadband homes were subscribing to one or more of the 98 SVOD services outside of the big three. Parks did not specify the actual subscriber levels of any of the 98 SVOD services.
The new data underscores how crowded the SVOD landscape has become and how a "long tail" structure is emerging, with the big three at the head separated from all the rest. Parks estimates that 52% of broadband homes subscribed to Netflix at the end of 2015 (Netflix itself reported 43.4 million paid members), 24% subscribed to Amazon and 14% subscribed to Hulu.

It's no secret there's a gold rush mentality in the media business toward SVOD these days, with new services launching all the time. But as Colin and I discussed on the podcast 2 weeks ago, only a handful of SVOD services will ever achieve scale since most people won't subscribe to more than a couple of them. To help analyze the value of specific services, I've created a handy framework using 9 different criteria.

The Parks OTT data gives a glimpse of the challenges the dozens of SVOD services outside the big three are up against, fighting for mindshare and wallet share relative to each other and to the big three. Breaking through is going to require major content and marketing investments.

And as Parks' Brett Sappington noted, there is also a risk that consumers will quickly unsubscribe from an SVOD service once they've binged its most popular content. Highlighting this idea, I wrote last August (based on prior Parks SVOD churn data) that many smaller SVOD services could be perceived, in effect, as "transactional" VOD.

In its new research Parks said that 64% of US broadband homes now subscribe to an OTT service, up from 59% in 2015. Parks found that 5% of broadband homes cancelled their Netflix accounts in 2015, equal to 9% of Netflix's current subscribers. 5% of broadband homes also dropped Amazon, equal to 19% of respondents who said they'd subscribed to Amazon. And 7% of broadband homes cancelled Hulu in 2015, equal to about half of Hulu's subscribers.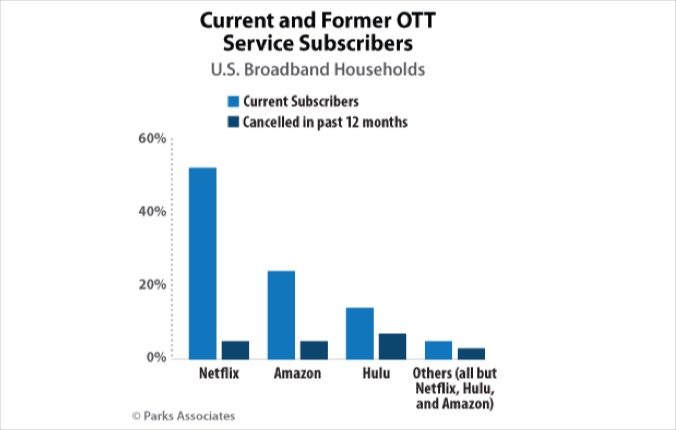 Brett will be presenting the new OTT research and his analysis next Monday, April 18th at the NABShow Online Video Conference at 12pm. The OVC will feature over 40 speakers on 15 sessions. The day 1 keynote interview is with Neal Mohan, Chief Product Officer at YouTube and the day 2 keynote interview (which I'll be doing) is with Michael Paull, VP, Digital Video, Amazon.

Tickets for the NABShow are still available and you can save $100 by using this link and the code EP05.