Tuesday, September 24, 2019, 1:20 PM ET
|
Streaming services have long been linked to cord-cutting, and new research from Manatt and Vorhaus Advisors provides another window into the relationship. Among those likely to cut the cord in the next year, nearly half (44%) said that after doing so they would rely on SVOD services like Netflix or Hulu.

And when asked their reasons for going without pay-TV service, "too expensive' topped the list of reasons cited (as expected) with 47%, followed by "I don't watch enough TV to make it worth it" (30%). But then the next 3 reasons all relate to the strength of streaming services: "I am satisfied with online streaming options on my TV," (24%) "I have enough entertainment options on the Internet" (23%) and I can watch the TV shows and movies I like on the Internet" (21%).
The data points to how embedded streaming services have become in viewers' lives. The proliferation of high-quality original programming, ease of access on multiple devices and low friction sign-ups are all helping drive SVOD services further into the mainstream. As more viewers informally or formally consider how much less time they're spending with costly pay-TV bundles and inexpensive new streaming options from Disney, Apple and others launch, cord-cutting is bound to increase.

The Manatt-Vorhaus research also illustrates broader viewership changes, especially among younger viewers. For example, when asked what their primary medium for entertainment is, 29% of 18-34 year olds cited smartphones, vs. 16% for all respondents. Next for the younger group was laptop/PC (21%), followed by TV (19%). Conversely, for all respondents, TV still dominated (43%).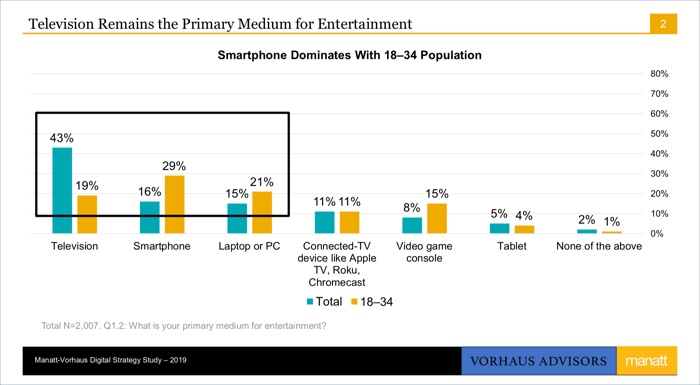 In addition, 67% of 18-34 year olds said they watch online video daily compared to 50% for all respondents.

The top online video services used were YouTube (67%) and Netflix (62%). Other top services were cited by less than half of respondents: Facebook (41%), Amazon Prime Video (39%), Hulu (36%) and Instagram (30%). Although 62% of online video users said their TV is connected to the Internet, this group estimated just 36% of their viewing is on a connected TV, followed by computer (28%), smartphone (23%) and tablet (13%).

There's a lot of other interesting data in the research. Mike Vorhaus, presented it at Goldman Sachs last week and gave me permission to make the slides publicly available. They can be viewed here.