Wednesday, August 7, 2019, 11:17 AM ET
|
Streaming video hours were up 130% in Q2 '19 vs. Q2 '18 according to Conviva's new State of the Streaming TV Industry report. Connected TVs led with 143% growth, followed by mobile (up 109%) and PC (up 75%). CTVs also led with 28.8 minutes of watch time per play, followed by PC with 15.1 minutes and mobile with 12 minutes.

Overall, CTVs accounted for 54% of all viewing hours in Q2 '19, followed by mobile (23%), PC (14%) and others (8%). Roku continues to dominate the CTV category, with 43% of time viewing. Fire TV was a distant second at 18%, followed by Apple TV at 10% and Xbox at 9%. Roku also had the highest year-over-year growth rate in viewing hours, at 173%, with Fire TV next at 145%, and then Apple TV at 129%.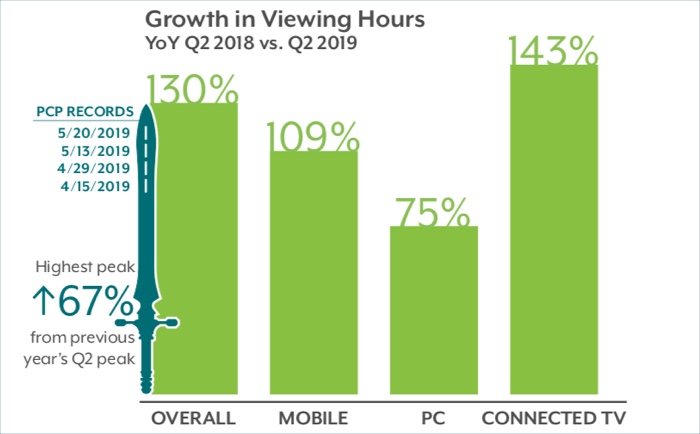 According to Conviva, improved quality of experience was a key to longer viewing times. Four key metrics that Conviva uses to measure quality of experience improved in Q2: video start failures (down 35%), video start time (1% faster), buffering ratio (42% better) and picture quality (10% better). As more viewing shift to big screen CTVs, quality of experience will only become more important to viewers.

In the report, Conviva called out ad buffering as the "silent engagement killer" for video providers. For viewers who made it through 5% of their chosen content, the ad rebuffering ratio was .4% on average, almost 4 times better than ad rebuffering ratio of 1.59% for viewers who bailed out before watching 5% of their content. Conviva noted that while these differences may seem small on the surface, but that can be deceiving. In a nutshell, if viewers have to wait even a tiny bit of extra time for an ad to play, they're more likely to keep watching the content, generating subsequent monetization.

One other highlight is that Conviva found video on demand's share of viewing hours surged to 66% in Q2 '19, from 59% a year earlier with live falling from 41% to 34% share. VOD viewing increased 155% over the year, with live growing increased 93%. Still, live viewing gets 26.4 minutes per play, while VOD only gets 17.1 minutes per play.

There is a lot of other highly relevant data contained in the report, which is available for download here.