Monday, April 17, 2017, 10:06 AM ET
|
Pre-rolls remain the workhorse of video advertising, outperforming other formats across metrics including recall, engagement and relevance. That's according to research from IPG Media Lab and YuMe which was released this morning and compared the performance of pre-roll, mid-roll, outstream and social video formats across mobile and desktop.

IPG found that just 17% of respondents agreed that pre-rolls interrupted content on desktop vs. 46% for outstream and 53% for mid-roll. The same pattern was true in mobile, with 17% of respondents agreeing that pre-rolls interrupted content compared with 60% for outstream and 72% for mid-roll.
Unaided and aided recall was also much better for pre-rolls than for outstream and mid-rolls, for both desktop and mobile. As the graph below shows, aided recall for pre-roll was over 3 times better than outstream on desktop and almost 2 1/2 times better than outstream on mobile.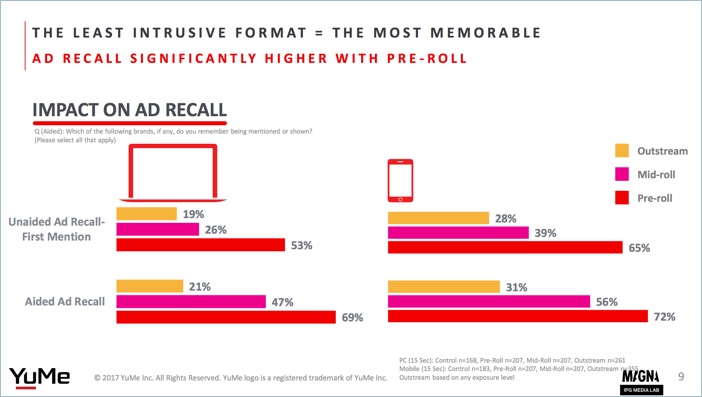 Only on the informative and engaging metrics was it closer among the formats. For desktop, pre-rolls and mid-rolls were virtually tied for being informative (53% and 52% respectively) and engaging (55% and 49% respectively). For mobile, pre-rolls edged ahead of mid-rolls for being informative (45% and 40% respectively) and engaging (54% and 44% respectively). Outstream lagged in all situations. Pre-rolls also had the best score for value exchange for free content.

However, outstream performed well when viewers watched to completion. In mobile in particular, outstream did the best on unaided recall and was virtually tied with pre-roll for aided recall. And outstream also performed well for branded content. But outstream was also at the top of the list for the format that viewers wanted to close out immediately.

In addition, the research explains the value of multiple scenarios where formats are mixed and matched together. The research included 6,824 users recruited from an online panel. In addition to the 5 formats, respondents were exposed to 12 ad strategies. Participating brands included Ghiradelli's and H&M.

The full research report is available as a complimentary download.