Wednesday, September 27, 2017, 2:27 PM ET
|
TiVo has released its Q2 '17 Video Trends Report, finding among other things that satisfaction with the value of pay-TV among subscribers noticeably increased over the prior quarter even as price remains a major concern, and a driver of cord-cutting.

TiVo found that 31.2% of subscribers said they're "very satisfied" with the value of their pay-TV service, up 7.5 percentage points vs. Q1 '17 and 11.6 percentage points over the past 2 years. Another 52.9% of subscribers said they're "satisfied," roughly flat with Q1 '17. Respondents saying they're "unsatisfied" dropped 6.9 percentage points vs. the prior quarter to 15.9%.
All of this is positive for pay-TV operators and while no specific reasons are given for the changes, other data in the research around use of TV Everywhere, improved search, integration of OTT services, etc, is likely involved.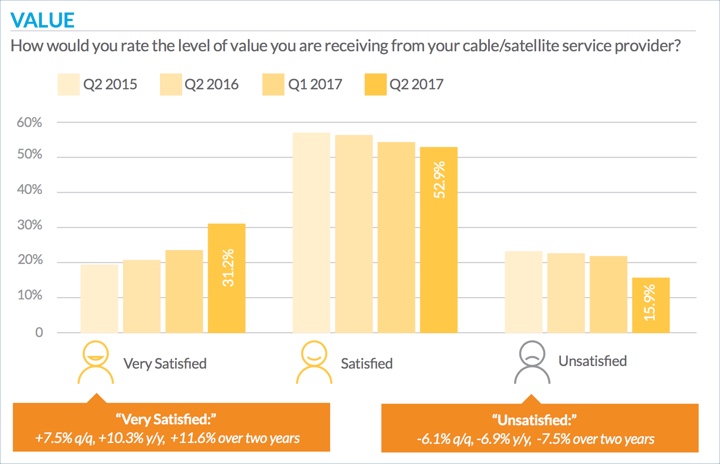 Among those dissatisfied, 77.8% said "Too expensive / increasing fees" was the top reason for their dissatisfaction, followed by "poor cable/satellite service" at 34.1% and "poor customer service" at 29.3%.

For those without pay-TV 85.3% cited "price/too expensive" as the top reason for not having service, up 5.6 percentage points vs. the prior quarter. That's almost double the second most cited reason, "I use an internet streaming service such as…" cited by 45.7% of non pay-TV subscribers and 4x more than the third most cited reason, "I use an antenna to get the basic channels on my TV" which was cited by 21.8% of this group.

A lot has been written about the increasingly tenuous value proposition of pay-TV's multichannel bundle, and the TiVo research further highlights its vulnerability, beyond simply price. Fully 77.5% of respondents want to pay for only the channels they watch, in line with prior quarters. And on average, respondents chose only 19 channels they would need in their ideal lineup. Respondents did raise how much they'd pay for this package, to $28.79 per month, up $3.06 per month from Q1.

Despite this being their target spending, 47.5% of respondents said they're actually spending between $51-$100 per month, with another 36.2% paying over $100 per month. So the picture is muddy: respondents say their satisfaction with their subscription's value is increasing even as there's a yawning disconnect between how much they'd prefer to pay vs. what they actually pay.

This is opening the door for less expensive skinny bundles and this quarter's TiVo created different models to test the value of various skinny bundle channel lineups based on respondents' preferences. Not surprisingly, there's no single skinny bundle available today that matches exactly to respondents' priorities. However, the research found that DirecTV Now's "Just Right" bundle ($50 per month) comes the closest, with 85.2% core channel coverage.

There is a lot of other really interesting data in the report, especially around the increasing use of paid video-on-demand, still strong viewership of live TV, gradual improving adoption of TV Everywhere, proliferation of connected TV devices and search/discovery behaviors.

The full report can be downloaded here.