Wednesday, March 14, 2018, 11:14 AM ET
|
Cord-cutting is accelerating, and there's a simple, unsurprising reason why: pay-TV service is just too expensive. For the fifth quarter in a row, that's the finding of TiVo's Online Video & Pay-TV Trends Report. In Q4 '17, in response to the question "What factors influenced you to cancel your cable/satellite service?" the price/too expensive answer grew by 6.6 percentage points vs. Q4 '16 to 86.7%, its highest level ever.

Price/too expensive is by far the most important reason, with the second reason, "I use an Internet streaming service" at 39.7%, actually down 8.6 percentage points vs. Q4 '16. Next was "I use an antenna to get the basic channels on my TV, at 23%, down 4.2 percentage points vs. Q4 '16.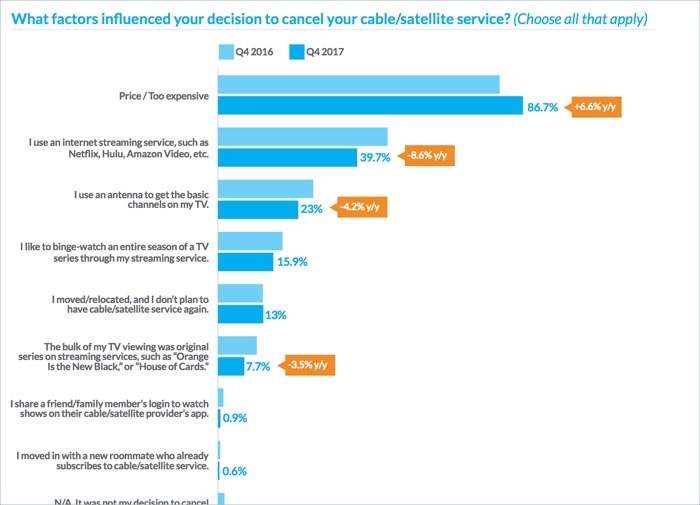 However, survey respondents who cut the cord said that the top way they use their TV is "to use their antenna to watch TV over the air" (35%), followed by "I have a smart TV to watch content with apps" (30.6%) and "My TV is connected to a streaming media device" (24%). Among all cord-cutters, 44.8% use an antenna "to access the basic channels" a level that's been flat for around the past year and a half.

So, although streaming services have grown in importance to cord-cutters, it's the broadcast channels, accessed via antennas, that are really the most pivotal factor here. In fact, when respondents were asked what their 10 most popular channels are, ABC was #1, Fox #2, CBS #3 and NBC #7. Broadcast networks are clearly still critical to viewers.

And that leads to another interesting finding in the report, which is that YouTube TV jumped to become the 4th most popular SVOD service, with adoption of 8.5% of respondents. It was the first time on the top 10 list and followed only the big three, Netflix, Amazon and Hulu. YouTube TV's main vMVPD competitors, Sling TV, DirecTV Now, Hulu with Live TV and PlayStation Vue didn't make the top 10.

YouTube TV has clearly benefited from its presenting sponsorship of last Fall's World Series to drive awareness (that deal has been extended for the next 2 years). But I continue to think that at the heart of YouTube TV's success is its emphasis on carrying all broadcast TV channels in the 85+ local markets it now operates in. For people considering cutting the cord, but who don't want to lose broadcast TV and aren't going to deal with putting up an antenna (or can't logistically), YouTube TV has emerged as the only viable solution. Add in all the sports networks also available, a great UI, multiple user accounts, unlimited DVR and a $40/mo flat price, and it's clear YouTube TV is positioned extremely well.

As always, the TiVo report is chock full of lots of additional data on pay-TV subscribers' attitudes, churn, the appeal of a la carte services, TV viewing habits, SVOD trends, transactional VOD, connected TV device market share and the role of smart speakers.

The full report can be downloaded here.