Wednesday, March 8, 2017, 10:54 AM ET
|
TiVo has released its 16th quarterly Video Trends Report (previously published by Digitalsmiths, which was acquired by TiVo in 2014) and the key takeaway is that pay-TV's high cost is creating huge industry vulnerability that is already showing up in increased cord-cutting/cord-shaving and higher penetration and use of SVOD services. It also looks possible that interest in skinny bundles could be fueled by their low cost compared to traditional pay-TV.

TiVo found that in Q4 '16, 17% of respondents didn't subscribe to a pay-TV service, and of this group, 19.8% cut the cord in the last 12 months. No surprise, "price/too expensive" was the top factor influencing respondents' decision to cut the cord, cited by 80.1% of them. But in second position was using a streaming service such as Netflix/Hulu/Amazon, which was cited by 48.3% of respondents.
During the quarter, 19.8% of respondents decreased/removed services, while 16.8% increased/added services. This 3 point spread was the biggest TiVo has recorded since Q4 '14. The top decreases were "level of cable/satellite service" (meaning a reduction in the multichannel bundle taken), premium channels (HBO, Showtime, etc.), premium sports packages and returned set-top boxes (likely additional outlets in the home). TiVo noted that 71% of those who reduced premium channels were also subscribers to an SVOD service.

Meanwhile, the top services added were "added new channels," added premium channels (which was down 12% over the past 2 years) and added HD.

Overall, TiVo found that nearly 64% of respondents now use an SVOD service, which is up 18.5% over the past 3 years. 92.5% of respondents watch an SVOD service daily, with all levels of usage up year over year. The biggest segment, 32.1%, use SVOD 1-2 hours per day. 56% of SVOD users said they spend $6-$14 per month on SVOD (in comparison, 35% of pay-TV subscribers said they pay between $101 to $151+ per month). Price was the most appealing feature of SVOD services, cited by 58% of respondents.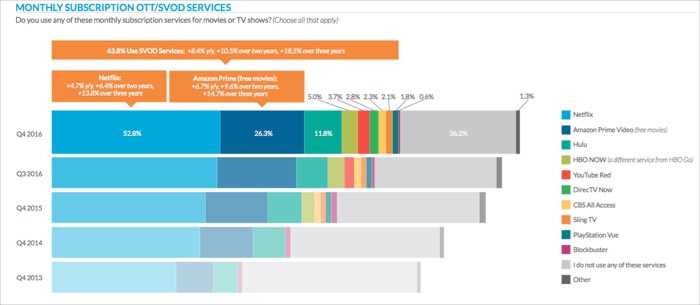 As TiVo observed, the huge investments SVOD providers have made in high-quality original content is increasing the usage and value of these services. But because the SVOD price point is so much lower than pay-TV, it also appears to be reducing how much respondents believe TV channels are now worth. When asked how much they'd pay for a lineup of their top 20 channels, respondents said $28.87 per month, which was 12.3% lower than the $32.92 per month respondents said in Q3 '16 (the 20 channels chosen remained basically unchanged).

Finally, pay-TV's high cost seems to be cracking open the door a bit for skinny bundles. While it's still early days and the research did not delve into attitudes toward skinny bundles, it did find penetration in Q4 '16 for these services is starting to hit the radar. DirecTV Now had penetration of 2.8% of respondents, Sling TV had 2.1% and PlayStation Vue had 1.8%. These are still quite low and I remain skeptical long-term given the gaps in skinny bundles' channel lineups. But in an environment where pay-TV's high cost is a clear pain point, skinny bundles' low prices are an attention-getter.

Taken together, the TiVo research reveals a picture of the gilded corner into which the pay-TV industry has painted itself. While 83% of respondents still subscribe to a pay-TV service, that level is steadily decreasing. SVOD services are getting stronger, while the sheer number of free, ad-supported video outlets continues to multiply. All of this is causing a heightened focus on the cost and value of pay-TV service.

On the bright side, notwithstanding the high cost, 78% of pay-TV subscribers still say they're either "very satisfied" or "satisfied" with their service, with those levels actually ticking up just a bit over the past 2 years. For the industry it's imperative to deliver more value for the money and give subscribers reason to stay on board.