Monday, April 24, 2017, 11:28 AM ET
|
TV Everywhere (TVE) continues to gain adoption, with research released late last week by Hub Entertainment Research and industry trade group CTAM revealing that 56% of pay-TV subscribers watched TVE content in the past 6 months with 51% saying they watched in the past month. According to CTAM, all of the top pay-TV operators, 400 smaller independent cable operators and 100+ networks now deliver TVE content.
Heavy use of TVE (daily or several times per week) is up across all age groups in the research period from August '16 to January '17. 33% of millennials, 24% of GenXers and 19% of Boomers said they were heavy users, compared with 26%, 20% and 9% respectively, in January '16.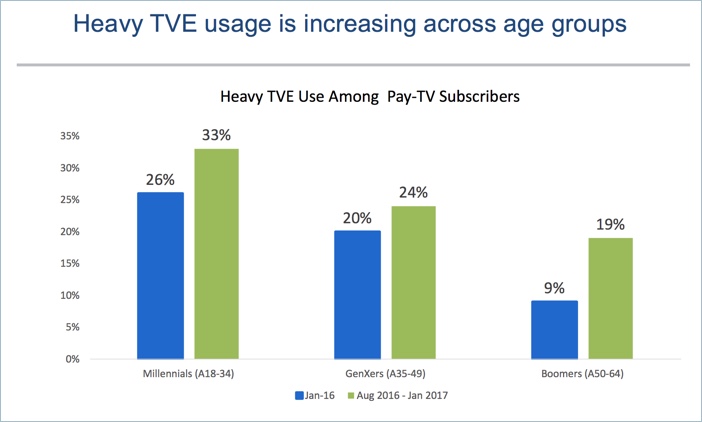 Millennial TVE viewership is more consistent and higher than other age groups. Conversely 35-64 year-olds' viewership was considered more situational and lower on average.

Aided awareness of TVE as a benefit of a pay-TV subscription was up to 73% of respondents. 49% of pay-TV subscribers said TVE makes them feel more positive about their provider. And 54% of respondents said they get more value from their basic pay-TV subscriptions and 62% from their premium network subscriptions when TVE is available.

The research also looked at the appeal of home based authentication (using the home's IP address) and single sign on, which are both pivotal industry initiatives aimed at driving higher adoption. 42% of subscribers said they had heard of home based authentication, with 59% saying it would increase their likelihood of TVE use.

TVE has been a much-vaunted pay-TV industry initiative for years. With inexpensive SVOD services proliferating, cord-cutting accelerating, and the high cost of pay-TV increasingly scrutinized, the urgency to offer multi-device, out of home access has intensified. But the industry has been challenged due to fragmentation and business priorities, resulting in highly inconsistent rollouts.

Finally, it seems as though the vast majority of the industry is getting behind TVE (albeit at a point where Netflix, for example, has been able to amass 50 million subscribers in the U.S. alone). As a long time TVE user myself, however, I can attest that gaining full access to content I'm already paying for, whether in the gym, on a plane (via downloading) or elsewhere, is extremely valuable.

With lots of industry headwinds, the priority must be on continuing to improve the TVE experience and broaden adoption.