Tuesday, August 14, 2018, 10:51 AM ET
|
Over 1 billion connected TV (CTV) devices are now active globally according to Strategy Analytics' just released "Global Connected TV Device Vendor Share: Q2 2018" report. Strategy Analytics said almost 60% of devices are smart TVs while the remainder are players like Roku, Fire TV and Chromecast accounting for the remainder.
Strategy Analytics said Sony and Samsung have the leading shares, though it anticipates Samsung will pull ahead in the second half of 2018. Sony has benefited from having smart TVs, Blu-ray players and also PlayStation, the leading game console. But Samsung is the global leader in smart TVs. Overall Strategy Analytics said it expects over 150 million smart TVs will be shipped globally in 2018, with another 55 million plus players being shipped.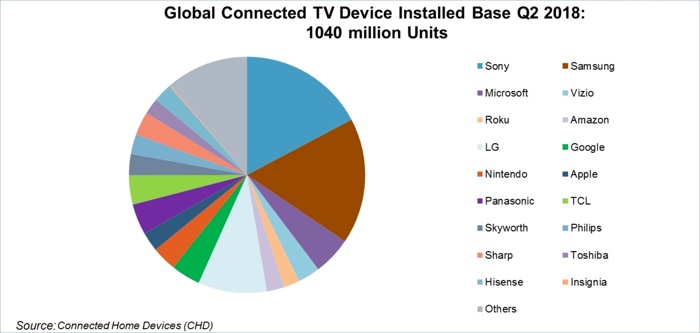 The Strategy Analytics data is just the latest to highlight the growing importance of CTVs. In July, YouTube said it was streaming over 180 million hours per day to CTVs. Recently Extreme Reach found that CTVs accounted for 38% of ad impressions in Q2 '18, up from 18% in Q2 '17. Other ad tech firms including AppNexus, The Trade Desk and others have all reported robust growth in CTV ad volume.