Tuesday, September 13, 2016, 10:59 AM ET
|
7Park Data has released an analysis of OTT viewership, finding among other things, that "Orange is the New Black" was Netflix's most popular show in June in 15 of the 16 countries analyzed (in Ecuador OITNB was fourth, with "Full House" in the top spot). OITNB had its season 4 premier on June 16th, driving a 544% viewership increase from May to June.

Although Netflix released 12 of its originals' season premieres in June, OITNB was the only one among the top 20 most-viewed. Following OITNB globally was "How I Met Your Mother," "Pretty Little Liars," "Supernatural" and "Family Guy." In the U.S., specifically, OITNB was followed by "Family Guy," "The Office," "American Dad!" and "Friends."
While Netflix has shifted its content investments to originals, 7Park Data found that viewership of library content still dominates. In June library content accounted for 86.3% of viewership vs. 13.7% for originals. Finland had the highest level of original viewing, at 24%, while Ecuador had the lowest, with 10.6%.

7Park Data noted that there is still a lot more library content available on Netflix than original content. And the overall split fluctuates when premiers of originals occur. For example, on March 17th library to original viewing in the U.S. was 88.5% to 11.5%. But the next day when season 2 of "Daredevil" premiered, the ratio changed to 76.3% to 23.7%. The pattern can be seen further in the graph below.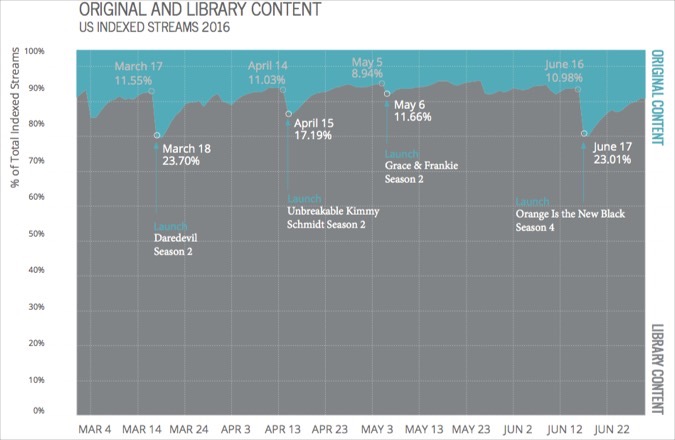 7Park Data tracks a global group of 1 million plus active OTT users who stream a total of 1 million plus hours of content every day. 7Park Data applies a propriety process to industry meta data to yield its insights. The report also includes data on top-performing movies, studios and genres. The full report is available here and is part of the company's TV Intelligence suite of data.